Gaining from Partial Loss
Don't just replace that damaged jewelry and hope to get something for the salvage. An expert on your side can show you all the options, avoid overpayments, and make your job easier.
It's estimated salvage value was $2,000 to $3,500. However, the insurer's expert suggested that if the stone were recut (at a cost of about $600), it could be resold for at least $5,900.
In some cases, recutting is not an option. It might be too costly, or there may be too great a risk of breakage in the process, or the recut stone would be too small t make recutting profitable. In giving estimates, an expert working on behalf of the insurer takes such things into account and makes recommendations
The key is that the expert making estimates must be working with the insurer's interests in mind.
Usually adjusters get repair quotes form the seller of the jewelry or from a replacement firm. Bear in mind that jewelers (and replacement houses!) are in the business of selling jewelry. They make greater profit from replacement than from repair. They are willing to offer repair estimates at no charge because they usually wind up recommending replacement rather than repair.
For cars, it's assumed that damages will be repaired unless repair costs exceed the car's current value. This is how jewelry should be handled. For cars, repair experts are consulted, and damage reports use estimating software with fixed costs for each repair. With damaged jewelry, it is often the seller or the policyholder's jeweler who is consulted; if that jeweler suggests replacement rather than repair, the insurer will probably just go for it.
Insurers should be aware that not all jewelers are manufacturing jewelers. Most have neither the equipment nor the skill to make repairs. As discussed in the May 2001 IM NEWS, literally anyone can call himself a jeweler (or appraiser). Obviously, someone whose experience covers only the selling of jewelry is not competent to estimate repair costs. Nor is it very profitable for him to send the work elsewhere for repair. Instead, he simply recommends replacement.
With salvage, the jeweler can again take advantage of the insurer's lack of expertise. Here the jeweler assumes (and hopes) you are just looking to unload a useless stockpile of stuff and expect next to nothing (see May 2000 IM NEWS). He has no incentive to maximize salvage quotes.
What you need is an expert on your side, a representative working on your behalf, who gives you all the information to make a fair and cost-effective settlement.
Here's what an insurer's expert can do to make adjusting partial losses easier:
Examine the jewelry.

Your expert examines the damaged jewelry before a settlement is made. He supplies a detailed description of the jewelry, which can be compared with the appraisal in the insurer's files. Often appraisals lack crucial information. This complete description allows the jeweler to establish the value of the piece (which is not necessarily the insured value or the purchase price).

Determine cost of repair/replacement.

He assesses the damage, determines whether the piece can be repaired, and if so, estimates the cost. This step is often bypassed by jewelers, since they make more money by replacing the piece than by repairing. If the jewelry cannot be repaired, he will give you a replacement price. You do not necessarily have to repair or replace with the estimating jeweler, but you (or your policyholder) can use this as a baseline for pricing replacements elsewhere.

Give salvage value, plus recommendations.

With salvage, your expert not only quotes you a salvage value, but he also makes recommendations, such as the profitable recutting of the stone described above.

Supply report in standardized format, including photo.

Here is an example of such a report prepared by JCRS. This report was for salvage, so it also includes information about the settlement already made. As noted in the report, the carrier had paid far more than necessary in the settlement.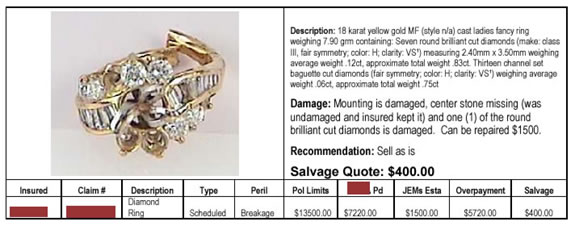 An insurer's stock of salvage often includes pieces that were found after a settlement was made. Such pieces may be in quite good condition. Other salvage is only slightly damaged jewelry that is repairable or loose stones that can be recut. An insurer may want to offer such high-quality pieces to employees as a perk, selling them at salvage prices. In this case, the expert's reports, which include photos and complete descriptions, as well as values, can be made available to employees.
All of these services can be outsourced for a minimal fee. Your expert's business is to get you accurate assessments of damages. Since he doesn't sell jewelry, his interest is in getting you the lowest possible costs for repair or replacement. Since he takes a percentage of the salvage price, his incentive is to get you the highest possible salvage value. An expert working for you only makes your job easier and your settlement costs lower.
FOR AGENTS & UNDERWRITING
In your review of loss files, use salvage as a measure for appraisal accuracy. If the description of the damaged piece does not match the description on the original appraisal, this may indicate that appraisals on the policyholder's other scheduled jewelry are equally inaccurate and unreliable. If so, this is a good time to recommend that the other jewelry be appraised by a qualified appraiser, such as a Certified Insurance Appraiser™ in jewelry
FOR CLAIMS
Do not automatically go to the original selling jeweler for assessment of damage. Remember he is in the business of selling (rather than repairing) jewelry. If he knows you've chosen him to either repair or replace, he will most likely recommend replacement.
With salvage jewelry, get quotes from several jewelers before selling. Jewelers often expect insurers to be an easy mark in this area (see May 2000 IM NEWS) and may take advantage of your lack of jewelry knowledge.
Always have damaged jewelry inspected. Ask for not just a repair estimate but also for a detailed description of the remaining jewelry, and compare this description with the appraisal. Such a comparison may reveal a value far below the insured valuation.
And, finally, about your expert:
• Is s/he a Graduate Gemologist (GG)?
• Is s/he a Certified Insurance Appraiser™ (CIA)?
• Does s/he have an accredited gem lab?
©2000-2018, JCRS Inland Marine Solutions, Inc. All Rights Reserved. www.jcrs.com
Subscribe to Jewelry Insurance Issues