Pretty in Pink - Kunzite on parade . . .
The main character in this story is kunzite. It's a pink stone that's currently experiencing a burst of popularity. What else does it have to say for itself?
Kunzite is a young gemstone, having been discovered just over a hundred years ago. That's recent by gemstone and jewelry standards; ruby, for example, has been valued as a gem for thousands of years.

Kunzite comes in a range of pinks and lavenders, but this mineral also has the quality of pleocroism, meaning the stone can appear in different colors depending on the angle of observation. Some of the finest examples of Afghanistan kunzite display a rich, strong violet, a light violet and a light green in the same stone.

Jewelry is appearing over a broad price spectrum. Loose gems are available on auction sites for under $20, while designers are producing kunzite jewelry that sells for tens of thousands of dollars.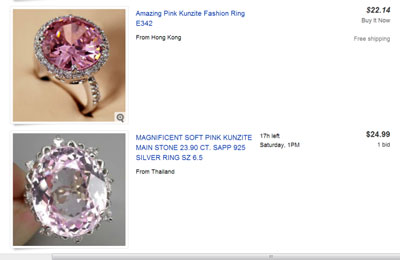 Kunzite rings on eBay for under $30
Kunzite raises a number of issues for jewelry insurers to keep in mind:
Kunzite isn't an expensive gem. The "magnificent" eBay ring selling for $24.99 has a 23.90-carat stone. Not everything called a gem is pricey.
Kunzite isn't rare. There is lots of it, and it can be mined in large pieces. The designer necklace has a stone that's a whopping 104 carats.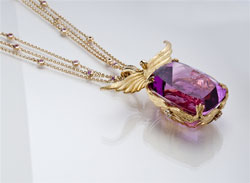 Kunzite designer necklace selling for $66,000
It's a good guess that the Afghanistan kunzite in the necklace is of higher value because of its color quality, but the jewelry's high price is mainly because the necklace is the work of a name designer. Insurers considering coverage of such jewelry should be aware that designers can rise or fall in popularity, and such a change will affect the market value of their work.
Kunzite is often heat-treated or irradiated to improve its color. These and any other treatments should be disclosed on the appraisal. Kunzite that has been treated is worth considerably less than untreated kunzite of similar appearance.
Warning—inherent vice: Kunzite can easily chip. It's not a good candidate for rings or bracelets, which are subject to impact. In any case, the edges and points of the stone are very susceptible to damage if they are not protected by the mounting.
Warning—inherent vice: A common characteristic of kunzite is that it may fade when exposed to sunlight! It's known as "the evening stone" because of this characteristic. One hopes that this unfortunate quality will be disclosed to the consumer, even if the jewelry is low-priced.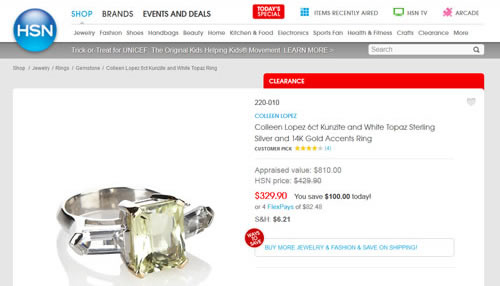 Once again we encounter our old nemesis, the inflated valuation. Home Shopping Network is selling a kunzite ring for $329.90, but the appraised value is $810. Also, the description does not mention whether the stone is color enhanced, or whether it's color will fade. Always be wary of appraisals supplied by the seller, particularly if it's an online retailer.
FOR AGENTS & UNDERWRITERS
As an agent or insurer, it's not your responsibility to keep up on fashion trends or the unusual qualities of various gems, but you need to be able to trust the appraiser to be knowledgeable about such things.
Not every jeweler, nor even every trained gemologist, is competent to appraise colored gems. A reliable appraiser of colored gems is one who is experienced in the buying and selling of colored gems, who is familiar with their pricing, and who is aware of treatments and scams associated with the various stones.
Recommend that your clients get an appraisal from a trained gemologist (GG, FGA+, or equivalent), preferably one who has additional insurance appraisal training. One course offering such additional training is the Certified Insurance Appraiser™ (CIA) course of the Jewelry Insurance Appraisal Institute.
Beware of appraisals supplied by the seller, which are basically sales tools that often have exaggerated valuations and quality descriptions.
It's best to have an appraisal on JISO 78/79, which will include all relevant information about the jewelry.
FOR ADJUSTERS
Depending on the stone, kunzite's color may fade when exposed to sunlight. Such changes in color are not damage for which the insurer is liable.
Do not assume that a gem is untreated simply because the appraisal doesn't mention treatments. Most likely, if treatment (or lack of it) is not mentioned, other information is incomplete as well. Treated stones are worth considerably less than untreated gems of similar appearance.
In damage claims, have the jewelry examined by an independent gemologist to verify the jewelry's quality and the truth of the appraisal.
If there are any terms on the appraisal you don't understand, consider consulting a jewelry insurance professional, to avoid serious overpayment.
©2000-2018, JCRS Inland Marine Solutions, Inc. All Rights Reserved. www.jcrs.com
Subscribe to Jewelry Insurance Issues