What happens to stolen jewelry?
You can find anything on the internet these days. Chances are you could even find that stolen ring on which you just paid a huge settlement.
When a thief is caught with the goods, the stolen property is confiscated by police. Law enforcement agencies store it in their property room and eventually sell any unclaimed goods at auction. It used to be that the auctions were obscure events held in parking lots.
Now they might be on the net.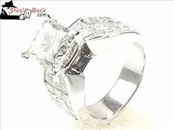 Auction
Price:

$

3,005.00
Bid Increment:

$

5.00
Minimum Bid:

$

3,010.00
Time left:
4 days
00:45:15
Maybe the jewelry is here:
Propertyroom.com accepts merchandise on consignment from law enforcement agencies around the country and puts it up for bid. They claim about 1,400 law enforcement agencies in 47 states sell through the site.
For sale is everything from leaf blowers to laptops, from fire trucks to cervical traction systems. But about 40% of the site's volume—$38 million in 2008—comes from jewelry and watches.
A graduate gemologist on staff appraises jewelry and gives it a value. High-end pieces get lab reports. Top-brand watches are sent to an expert for authentication. Following the familiar online auction format, propertyroom pictures the item, states a value, and opens to bidding.
Propertyroom.com says they maintain the only nationwide registry available to the general public for recovering lost or stolen goods. They record the serial number of each item received and check the numbers against the Stolen Property Registry. If there's a match, they contact the owner and return the item. Individuals can even register the serial numbers of items they own in case the items are ever lost or stolen.
This looks like a good place for insurers (and customers) to look for stolen jewelry.
But . . . It turns out this is little more than an auction site. A search for "diamond jewelry" turns up pages of items, many with an opening bid of just $1; but when we limited our search to police property room items, there was nothing. Apparently none of the jewelry pictured was stolen; it was just jewelry for sale, some of it from other online sites. Theft victims or insurers looking for stolen jewelry here would be wasting their time.
Or how about here:
PoliceAuctions.com is another site that sounds promising, with its links to government auctions and foreclosures.
However . . . despite its name, the site doesn't even claim that the goods it displays for auction were confiscated by law enforcement. There's no reason to look for stolen jewelry here.
Or maybe here:
Jewelers' Security Alliance (JSA) is a non-profit trade association established in 1883. JSA set up stolenjewelry.org to be a "central clearinghouse for the jewelry industry, law enforcement, insurance personnel and the general public to share information on jewelry that has been stolen or recovered in the United States."
It has reports on jewelry store thefts around the country and a list, with photos, of "most wanted" robbery suspects. There is a form for submitting a crime report and a form for reporting jewelry losses. The site also allows users to search for recovered gems, jewelry and watches.
However . . . not much jewelry is listed there, and there are no entries for jewelry that has been recovered. The list of items stolen and the statistics on thefts are woefully incomplete. Meanwhile, there is an extensive collection of links to providers of burglar alarms, surveillance systems, locks and the like. In short, the site seems to be primarily an advertising tool for the jewelry industry.
Alas:
No doubt stolen jewelry is being offered for sale on the internet. It's commonly understood that a lot of the goods available on eBay and similar sites are hot. Bloggers lament the difficulty of verifying that name-brand used goods offered online are not stolen. Meanwhile some sites, like those referenced above, imply they are selling stolen goods in order to suggest that buyers will be getting a bargain.
In this highly interconnected age, it seems that there should be a national registry for stolen jewelry. Or at least a site where recovered jewelry could be listed and described, so that victims or insurers could retrieve their jewelry. So far, this hasn't happened.
However . . . there are steps insurers can take to increase their chances of retrieving stolen jewelry. See below.
FOR AGENTS & UNDERWRITERS
In the event of a theft, it's possible that the jewelry will be recovered by law enforcement, or uncovered when the piece is sent for to a lab for grading or to the manufacturer for repair. To report stolen jewelry or to identify recovered items, descriptive information is needed. This is the same information that allows the underwriter to determine insurance-to-value (ITV) and the adjuster to properly price a replacement.
Play the Numbers Game
For quality diamonds and colored gems, have a report from a respected lab—GIA, AGS or GCAL. These labs often inscribe the stone with its report number. The inscribed number is unique and can function as a serial number in identifying the gem.
For luxury watches, be sure to have the manufacturer, style number, and serial number-as well as any other details available. This information is useful not only in identifying the specific watch but also in establishing the age of the piece. Watches, unlike most other fine jewelry, lose value as they age. A 20-year-old Rolex would be replaced in most cases by a similar 20-year-old Rolex, not a new one.
FOR ADJUSTERS
Thefts of expensive jewelry:
Remember that, once you pay the claim, the stolen jewelry rightfully belongs to the insurer. It's well worth the few extra steps that could bring back some valuable jewelry.
Be sure the policyholder reports the theft to the police, and get the report number for your files.
For luxury watches, report the theft to the manufacturer. Give all the identifying details you have, such as serial number, model number, etc. This makes it possible to flag the stolen watch if it is ever sent to an authorized dealer for repair. Include the policyholder's police report number. Provide any information necessary to substantiate your settlement of the claim. (Manufacturers are used to these situations and will guide you.)
For diamonds, report the theft to all the major labs (such as GIA, AGS, GCAL, IGI, and EGL), giving the name of the lab that issued the certificate and the number on the certificate. This number may be engraved on the gem (all labs offer this service for a fee). If the gem appears for grading at a lab, it will be identified as stolen.
Have your SIU department notify the police. Members of SIU departments are often from law enforcement and will already have connections in place with personnel there. (SIU's contact with the police is independent of the policyholder's police report.)
Notify www.propertyroom.com. Give them any identifying information you have, since they claim that any stolen item will be returned to its rightful owner. We don't know whether an insurer's claim will be honored, but you have nothing to lose.
Fill out a loss form at www.jewelerssecurity.org/loss_report.html, a site that claims to track stolen jewelry.
Try googling the serial number or diamond report number. Items sold on sites like eBay often include such info in their descriptions, and it just might happen that the piece turns up there.
©2000-2018, JCRS Inland Marine Solutions, Inc. All Rights Reserved. www.jcrs.com
Subscribe to Jewelry Insurance Issues