Are the diamonds you're insuring real?
You've heard of fake news. How about fake diamonds?
Or the slippery slope of false advertising, misleading terminology, technological subterfuge, and carefully orchestrated omissions?
Fakery abounds
The National Museum of Prague recently discovered that a number of its prize gems were fakes. A 5-carat diamond turned out to be plain glass given a diamond cut. A 19-carat sapphire, believed to be worth more than a million dollars, was in fact lab-made and worth substantially less. Further examination revealed that half the museum's rubies were lab-made.
The gems had been in the museum's collection since the 1960s and1970s. Presumably they had been appraised by experts, so how could such a large-scale problem occur? Was it deliberate fraud from the start? Inexperienced gem appraisers? An ongoing pattern of substitution by a member of the staff? The museum may never know.
If such a value error could happen to a national museum, could it happen to an insurer?
What is "real" diamond?
Obviously, the glass stone in the museum's collection is not real diamond. But these days, the meaning of "real" diamond is itself under the scope.
There is mined diamond (sometimes called natural) and there is lab-made diamond (also called synthesized, lab-grown, created, cultured, cultivated). The two are physically, chemically and optically the same. In fact, they are distinguishable only with the aid of expensive laboratory equipment. The big difference is in the marketing—and in the market value.
Lab-made diamond retails for 20%-40% less than mined diamond. The price difference alone wins over many consumers. For the same price, an engagement ring can have a visibly larger diamond if the diamond came from a lab. Lab-mades are also promoted as a more humane and eco-friendly choice, without the baggage of blood diamonds or the devastation of mining. These features are particularly attractive to many millennials.
The diamond mining industry worries that diamond growing will disrupt the mined diamond business. The Diamond Producers Association (DPA), formed in 2015, is a group of diamond mining companies whose declared purpose is "to maintain and enhance consumer demand for, and confidence in diamonds."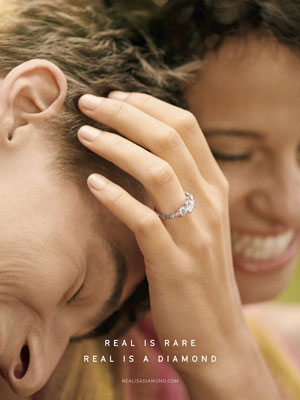 DPA has an ad campaign promoting mined diamond as the only "real" diamond. The campaign, called "Real is Rare," plays to the idea that only diamond from the earth is rare and has the geological gravitas to symbolize a committed relationship. But that symbolism is itself based on marketing, from the DeBeers ad campaign of the 1940s with its slogan "A diamond is forever." DeBeers is also responsible for restricting the supply of diamond, so that diamond is perceived by the public as "rare."
Terminology is an important part of marketing. Guidelines by the DPA state that the industry should avoid the terms 'real', 'genuine' and 'authentic' when describing man-made diamonds.
Diamond-growing labs, in turn, reject using "natural" as a synonym for mined diamond because it implies that lab-made diamonds are imitations, like CZ or moissanite. In creating diamond, the lab and the earth use the same elements of nature: carbon, high pressure and intense heat.
Jean-Marc Lieberherr, CEO of DPA, believes a lab-grown diamond is not diamond at all. In a swaggering put-down, he said, "Just as one cannot compare an original painting to a reproduction, one cannot compare a diamond to a manufactured replica."
Meanwhile, the labs move forward. Lab-grown gems got a big boost when Atelier Swarovski launched its first fine jewelry collection using Swarovski Created Diamonds at the 2017 Oscars. The new line is being branded as "conscious luxury" and "responsible jewelry."
Ada Jewelry has another approach, offering the ultimate personalization in bespoke jewelry. They can process any carbon-containing item, such as a bridal bouquet or graduation keepsake, to grow a diamond in the customer's choice of color and set it in jewelry.
Lab-grown diamond sales represent a very small segment of the diamond jewelry market. One estimate put it at 3% of the global market, but all parties expect that share to increase.
Engagement rings, the lifeblood of most jewelers' business (and the most common jewelry that insurers cover) have shown declining sales for several years. Today, young couples may forego the symbolism of a ring.
If they do buy rings, they may opt for a lab-grown diamond, which has the same sparkle as mined diamond but for a lower cost. Then they have funds left over for, as one young woman expressed it, other things that are important to them, such as travel or electronics or buying a house.
Disclosure & Valuation
These are the two important points for insurers.
The appraisal should state whether the diamonds are mined or lab-made. Technology for synthesizing gems is now so advanced that it can be difficult to detect lab-made stones.
For diamonds of significant value, have the stone sent to GIA, which has the expensive equipment needed for identifying lab-made diamond. GIA issues separate gem reports for mined diamond and synthetic diamond.
Lab-made stones have a lower valuation than mined diamonds, so the distinction between mined and lab-made is not trivial. The appraiser must not value lab-grown diamond as though it were mined diamond.
FOR AGENTS & UNDERWRITERS
A diamond appraisal should explicitly state that the stone is either mined or lab-made. Lab-grown diamond is real diamond, but its valuation is lower than for mined diamond.
Check the appraisal for all terms signifying lab-made, including synthetic, grown, man-made, lab-made, lab-grown, cultured, and created.
Gem-grading labs have received parcels with lab-grown diamonds mixed in with mined gems. How many lab-made stones have not been "caught" and are out in the marketplace being sold, and priced, as mined diamonds? The potential for overpayment on claims is enormous.
Deliberate nondisclosure by the diamond manufacturer, distributor or retailer is a danger because of the price difference between natural and lab-made diamonds.
Since synthetic diamonds are difficult to detect, improperly trained retailers and appraisers may unwittingly pass on synthetic diamonds as naturals.
In insuring colored diamond, or any diamond of high value, never assume the gem is natural (and therefore more valuable). Insist on an appraisal that states whether the stone is natural or synthetic.
Recommend that the insured get an appraisal from an independent appraiser as soon as possible after a purchase, to verify that the quality and value of the jewelry are as stated by the seller. The appraiser should be a trained gemologist (GG or FGA+), preferably one who has additional insurance appraisal training. One course offering such additional training is the Certified Insurance Appraiser™ (CIA) course of the Jewelry Insurance Appraisal Institute.
FOR ADJUSTERS
Reputable makers of lab-made diamonds want to associate their names with their products. Recognizing these names, or working with a jewelry expert who does, could save you tens of thousands of dollars on a claim.
There are, of course, disreputable gem-growers, so you cannot assume a gem is mined just because the appraisal doesn't mention synthetic, lab-grown, etc. This is especially important for diamonds of high value.
Disclosure information can get "lost." A customer may buy jewelry with synthetic diamonds, not understanding the meaning of a term like cultured, for example, or not appreciating the extreme difference in value between mined and grown diamond. When he becomes aware that he made a bad purchase, he may "sell" it to the insurance company through a fraudulent claim.
Jewelry with multiple gems may have mined and lab-grown stones mixed together. Insist on an appraisal that explicitly describes each gem as mined or lab-grown.
Was the jewelry purchased on eBay (or anywhere on the internet)? If so, be very suspicious of the stated quality and valuation. Merchandise bought online (or from other unauthorized sources) may be second-hand, may have been sold openly as a replica, or may be a complete knockoff wearing an important logo.
Is the valuation on a printed certificate/report/ID card supplied by the seller? Disregard this valuation, as such papers function as sales tools. Try to determine value based on descriptive information and sale price.
Is it a brand name? Look for evidence of authenticity. Some manufacturers sell only through authorized dealers.
If the appraisal does not explicitly state the gem is mined, use every means possible to determine whether it is mined or lab-grown. Be especially diligent with colored diamonds.
On a damage claim for a high-priced gem, always have the piece examined by a qualified gemologist, such as a Certified Insurance Appraiser™, to determine whether the stone is mined or lab-made (and to be sure its qualities are as stated in the appraisal).
©2000-2018, JCRS Inland Marine Solutions, Inc. All Rights Reserved. www.jcrs.com
Subscribe to Jewelry Insurance Issues