Hurricanes, fires, floods—and jewelry insurance


The recent outbreak of natural disasters has everyone's attention. Catastrophes that demolish entire communities are not only tragic for the people who live there but can be a nightmare for insurers who are overwhelmed with claims. Many insurance companies are closely scrutinizing what they are writing, looking for ways to mitigate future losses.
Fire is especially problematic. If a house is completely demolished and everything is burned up, there's nothing to adjust. Since all fire damage is covered, often the insurer must simply write a check for the full limit of liability. When the houses are expensive, they also have huge personal property/contents exposures, meaning huge losses for the insurer.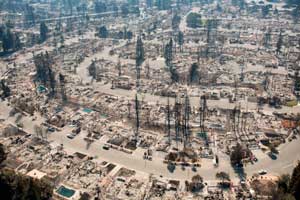 Dealing with flood claims is also an intense and expensive undertaking. A home may have hurricane insurance, but that doesn't include most flood damage. Or it may have been in an area not considered vulnerable to flood. Flood maps used for determining risk might be based on old statistics that don't take into account residential developments that prevent adequate water absorption. Many homeowners who were in danger and should have had flood insurance didn't think they needed it. Yet those with flood damage will submit claims, and insurers must address them and do due diligence, even if the result is a denial.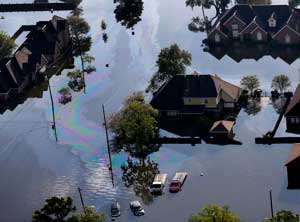 What does all this have to do with jewelry insuance?
Most consumers insuring their jewelry will do so on their homeowner's policy (either scheduled or unscheduled).
In an effort to mitigate their losses, some insurers are simply withdrawing from the homeowner market. After the Oakland Hills fire in 1991, California was considered too risky and few companies would write HO coverage there. Florida, where hurricanes are a regular occurrence, already offers limited choices for homeowners because insurers have pulled out of the market. To avoid overexposure, some insurers may decide to limit coverage to moderately priced homes.
We expect that lots of insureds will be getting non-renewal notices. Others will find reduced limits available for jewelry on their HO policy. Or the new HO policy might say that the exclusions for jewelry are the same for all other perils and not just limiting theft. Or it might simply say that the HO policy will not include jewelry.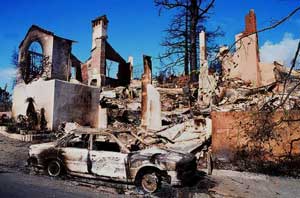 Many insureds will be looking for HO policies. For a new policy, the consumer must start with a new application and must disclose all previous losses. If jewelry is on the HO policy, any jewelry claim will be on the insured's record with CLUE and PILR and counted as a Homeowner claim. Even if the jewelry is on a policy separate from the HO policy, if the jewelry policy is with a reporting company, the jewelry claims will be on record.
"Mysterious disappearance"—a very common jewelry loss—is a major red flag, and reason enough for a denial of coverage by apprehensive insurers.
It's important to note that, with data aggregation, these losses on record can affect most automated renewal systems, including decisions and ratings on non-homeowner policies.
Standalone jewelry policy
The homeowner market is shifting, and it's important to be proactive in protecting your clients.
Agents can save their clients and themselves a great deal of stress by moving jewelry from the HO policy to a standalone policy with a company that does not report losses to CLUE or PILR.It's best to make this switch now, before there is a tightening of the market, before policies are cancelled or your clients see a significant rise in premiums.
Benefits of a standalone policy from a company that does not report to CLUE or PILR:
Jewelry losses are not available for data aggregation.

Jewelry claims do not count against the homeowner policy.

Insured can keep HO policy's "claim-free" rating.
FOR AGENTS & UNDERWRITERS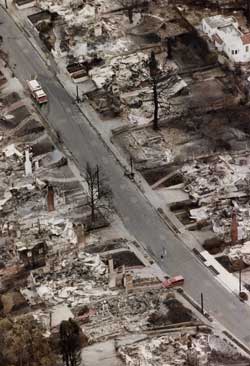 Review your records, looking for homeowner policies that have scheduled jewelry. Switching the jewelry to a standalone policy is likely to benefit your clients, both immediately and in the future. (Don't wait for a disaster or an HO cancellation to make this change!)
CAUTION! Some insurance companies offer a homeowner policy and also a standalone jewelry policy separate from its HO policy. Yet, as part of the company's overall procedures, a jewelry loss would be automatically reported to CLUE and PILR. To provide the best protection for your client, choose a jewelry insurer that does not report losses to CLUE and PILR.
HO policies have limits that usually are insufficient for covering the client's jewelry.
According to U.S. Department of Justice statistics, 70% of all personal property (contents) theft losses are jewelry. Don't let your client's Homeowner coverage be dinged because of a lost watch or ring.
HO policies typically do not cover common jewelry damage losses, such as a chipped stone.
FOR ADJUSTERS
In catastrophe claims, be sure to check HO contents limits.
It's also extremely important to coordinate with other carriers and other policies, looking for duplicate coverages and/or duplicate claimed items. If there is a jewelry policy, be sure jewelry is not being claimed on the HO policy.
Note the "other insurance" provisions of the policy to avoid stacking of coverage limits.
©2000-2018, JCRS Inland Marine Solutions, Inc. All Rights Reserved. www.jcrs.com
Subscribe to Jewelry Insurance Issues