Palladium-the Other Precious White Metal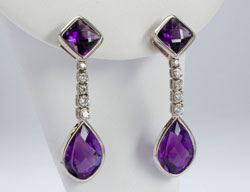 Palladium and amethyst earrings
Beginning in January 2010, all palladium jewelry sold in the UK must be hallmarked by a government assay office after testing to ensure that the metal content meets a recognized standard. Palladium has made its way into the exalted company of gold, silver and platinum as a precious metal.
Hallmarks & Consumer Protection
Hallmark laws are basically about truth in advertising. If a ring is being sold as gold, for example, how pure is the gold, and who's saying so? The hallmark stamped inside the ring should tell you.
Quality control of precious metals is perhaps the oldest known form of consumer protection. There are articles of Byzantine silver from the 4th century bearing markings comparable to today's hallmarks. During the Middle Ages, craft guilds in Europe developed standards for fineness of precious metals. Craftsmen stamped their finished works with the symbol of their guild, as evidence that the work met established standards of craftsmanship. Those stamped symbols are the forerunners of our contemporary trademarks and purity marks in jewelry.
In the U.S. today, the Metal Stamping Act governs gold, silver and platinum articles offered for sale. For example, the Act requires that anything sold as "gold" must be marked with the karatage, say 10k or 14k. This indicates the amount of gold in the piece. Since pure gold is expressed as 24 karats, an item marked 14k is 14/24 gold; the rest is alloy.
The purity of metals like platinum, silver and palladium is usually expressed in parts per thousand. Thus a stamp of 950 means the item is 950 parts precious metal and 50 parts alloy. (Alloys are added to improve the durability, color or other attributes of a metal, so that it can be used for jewelry.)
The law further requires that any gold item stamped with karatage must also be stamped with the manufacturer's trademark. Its presence on the item means that the owner of the mark stands behind the claim of purity stamped on the metal.
Many countries have laws governing quality of precious metals—usually including gold, silver and platinum. Why is palladium suddenly joining the big three?
Palladium - Platinum's Cheaper Sister
Palladium is in the platinum group of metals. It's silver-white appearance is similar to that of platinum, but palladium is even whiter. It's also lighter in weight, making it a better choice for large pieces of jewelry. The palladium and amethyst earrings shown above are lighter to wear than if they were made in platinum.
Palladium doesn't react to oxygen at normal temperatures, so it won't tarnish. Because of its hardness, it doesn't readily show signs of wear. Most important, palladium looks very like expensive platinum but costs about a third the price.
Though its name is not well recognized, palladium has been around for quite a while. It was discovered in 1803 and named after the asteroid Pallas, which had been discovered two years earlier. Palladium jewelry was made during Victorian times, and it had another burst of popularity during World War II when platinum was reserved for military purposes. But throughout its history and even today most palladium goes to industrial use, primarily in catalytic converters for automobiles.
While industrial use dominates, jewelry manufacture is increasing its palladium share. A few years ago the prices of platinum and gold began to rise steeply, so palladium became more appealing. Chinese jewelers have begun fabricating large amounts of palladium jewelry, and extensive advertising in that country is creating a growing market among young people. Meanwhile, the economic downturn has made consumers around the world extremely cost-consciousness.
Palladium doesn't yet have the cachet of platinum, gold, or silver, but inclusion in Britain's hallmark laws signals a move in that direction.
FOR AGENTS & UNDERWRITERS
Appraisals often do not give the manufacturer's name (or the jewelry's style number). Jewelers conceal this information to give the impression that each piece is unique and also to prevent customers from comparison shopping. However, this is exactly the information the adjuster needs to price a replacement.
The manufacturer's trademark will appear as a symbol, probably indecipherable by you or the insured. Ask the seller for the name of the manufacturer, and be sure the name appears on the appraisal and detailed sales receipt.
Amazingly, some jewelry insurance appraisals do not even mention the metal used! Be sure the metal is stated, along with its purity. This information is essential for setting appropriate premiums and pricing a replacement.
An appraisal should include the following information:
name and purity of the metal
manufacturer
manufacturer's style number
weight of the piece
workmanship
details on all gemstones
Recommend that policyholders submit appraisals on JISO 78/79, prepared by a Certified Insurance Appraiser™, or on JISO 806, prepared by a jewelry/appraiser of their choice. These standardized forms prompt the appraiser for all necessary information.
Platinum and palladium look similar; the names may sound similar to a consumer; and the seller's assurance that both are from "the platinum family" may leave a buyer with the impression the two metals are similar in all ways. They are not similar in value—depending on the market, platinum can sell for 3-4 times the price of palladium. Be sure the metal is stated on the appraisal.

FOR ADJUSTERS
Palladium may discolor at high soldering temperatures, become brittle with repeated heating and cooling, and react with strong acids. When dealing with a damage claim on palladium, check whether the jewelry had recently been to a jeweler for cleaning, resizing, etc., as those services may have been responsible for the damage.
©2000-2018, JCRS Inland Marine Solutions, Inc. All Rights Reserved. www.jcrs.com
Subscribe to Jewelry Insurance Issues