GARNET—And Its Many Incarnations
Garnet, the birthstone for January, is a gem for all eras, all fashion trends and all pocketbooks. Some garnet jewelry will be below the insurer's radar, but other pieces are quite valuable.
There seems to be a hunger for colored gems these days, and the jewelry industry is tumbling over itself to create variations on the traditional gems. This newsletter has covered many of the new developments — lab-grown diamonds with intense color; natural diamonds that are irradiated, heated and treated to improve their color; low-quality rubies and emeralds treated to make them look good enough for jewelry; pearls in just about every color and flavor, including chocolate.
The stage is set for the grand entrance of garnet, a brilliant gem that sparkles like diamond and, in its natural untreated state, already comes in a variety of colors.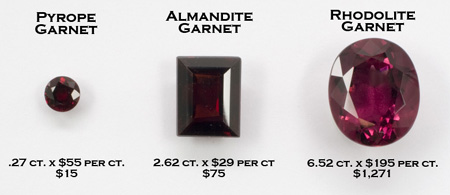 Well, maybe this isn't a grand entrance. Garnet was around in ancient Egypt, Rome and Greece, and has been used in jewelry since at least 3000 BC. It's had a strong foothold because of its deep color and mystical associations. Warriors wore garnet as protection from injury, and travelers carried it to avert disaster. It was used to prevent depression, cure heart problems (physical and emotional!), and heal wounds.
The Pomegranate Connection
Garnet takes is name from the Latin word for grain, because of the shape of its crystals. The red, rounded crystals, embedded in rock, were often compared to seeds of a pomegranate. An echo of this is seen in a traditional style of Victorian jewelry, where many small garnets are set close together, like pomegranate seeds.
Besides pomegranate red, garnet comes in a spectrum of colors. In fact, garnet displays every hue except blue.
Some Popular Types of Garnet
On appraisals we often see the stone identified as simply "garnet," with no information on the variety. What we call garnet actually encompasses a group of several different gemstones of similar chemical composition, which go by a number of different names.
Pyrope is a fiery red garnet, with the small, seed-like crystals popular in 18th and 19th century jewelry.
Almandite is another red. Because it grows in larger crystals than pyrope, it can be used as a center stone.
Rhodolite is a mixture of the two in color.
Grossularite occurs in a range of colors, including yellow, orange, red, green and even black.
Spessartite is a radiant orange-to-red garnet. Its history is a story of ups and downs. Originally found at a site in Germany, it was a rare and expensive gem owned only by collectors. Then a new deposit was discovered in Namibia and spessartite became world famous. It was widely marketed in jewelry under the trade name mandarin garnet. As the deposit got mined out, gemologists feared that quality spessartite would again become the exclusive domain of collectors. . . until another spessartite deposit was discovered, this time in Nigeria. Still a pricey gem, there is at least a reliable supply for use in jewelry.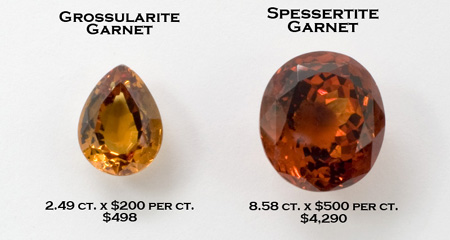 Tsavorite or tsavolite is an emerald-green garnet, discovered in 1967. Tiffany's named the gem and began a broad promotion campaign that made tsavorite an international favorite. The gem is valued for its vivid color, running from light green to intense blue-green and velvety forest green, and for its great brilliance.
Demantoid is for connoisseurs, a green gem with even greater brilliance than diamond. It is the most expensive kind of garnet and one of the most precious of all gemstones because of its rarity and luminosity. Russia's star jeweler Carl Fabergé used it in many of his creations. A "horse-tail" inclusion of golden-brown crystal threads is an unmistakable sign of Russian demantoid and adds greatly to the gem's value.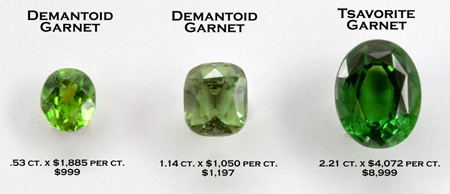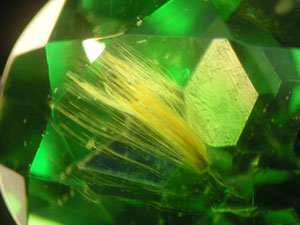 Color-change garnets have the seductive quality of appearing as one color in sunlight and another under incandescent light, and may even appear different under morning, afternoon, and evening light. The change may be dramatic, say from greenish to purplish-red. Other things being equal, the more vivid the color change, and the more attractive both the colors, the more valuable the stone.
Insurance Considerations
Garnets are generally hard gems, about 7.25 on the Mohs scale. This gives garnet excellent wearing qualities. The softer varieties, such as demantoid, would be more suitable for earrings than for bracelets.
Garnets are not treated, as are so many other gems we've discussed (such as diamonds, emeralds and rubies). Since treatments disguise a low-quality stone, and may themselves break down, it's a great plus for buyers and insurers that garnet is free of these risks.
Many garnets are inexpensive (and such jewelry would not — we hope — be crossing the insurer's desk), but others types are quite valuable. Jewelry with "real garnet"" can sell for under $100, but a high-quality tsavorite garnet, for example, can cost several thousand dollars.
Given this range in value, "garnet" is not a sufficient identification on the appraisal or sales documents. A qualified gemologist will be able to identify the specific type of garnet.
FOR AGENTS & UNDERWRITERS
Garnets vary greatly in price! The appraisal should state the type of garnet, not simply "garnet."
Garnet is sometimes passed off as another, usually more expensive, gemstone, such as ruby, emerald or alexandrite. Fantasy names like "Montana ruby" or "New Mexico ruby" are actually terms for garnet.
When insuring high-value garnet jewelry, it is essential to have an appraisal by a trained gemologist who regularly deals in colored stone jewelry.
It's best to insist the appraisal be prepared on one of the insurance industry's standard forms — JISO 78/79, JISO 805 or JISO 806. The preparer should be a Graduate Gemologist, preferably also a Certified Insurance Appraiser.™
Be wary of jewelry purchased online or from TV shopping channels. Garnet has name recognition, and inexpensive garnet may be grossly overpriced.
FOR ADJUSTERS
Garnet can be damaged by heat from a jeweler's torch, or by improper cleaning with heat or chemicals. In settling a damage claim, ask whether the jewelry has been recently cleaned or the stone reset.
When settling claims on ruby and emerald, remember that garnet is sometimes passed off as these more expensive stones. Use every means possible to be sure the identification and valuation are accurate.
©2000-2018, JCRS Inland Marine Solutions, Inc. All Rights Reserved. www.jcrs.com
Subscribe to Jewelry Insurance Issues