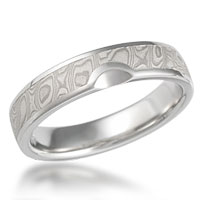 Wedding Band by Lisa Krikawa
Silver: the new gold
As the price of gold has gone stratospheric in the past few years, many jewelry buyers are turning to the less expensive precious metal. Meanwhile, silver is going through some exciting changes that expand jewelry-making possibilities.
Silver is the most malleable of metals. It's said that a gram of silver could be drawn into a wire a mile long. It is the brightest metal.
On its own, silver is too soft to be used for jewelry, but adding a small amount of copper greatly increases its durability. Adding 75 parts copper to 925 parts silver produces what silversmiths in the past concluded was the ideal mix. According to the National Stamping Act of 1906, silver that is at least 925/1000 silver can be stamped and sold as "sterling silver."

Oxidation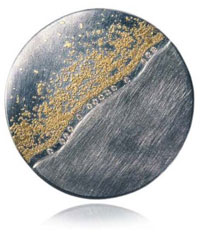 Brooch by Pedro Boregaard
One attribute of silver is that it oxidizes.
Oxidation is a chemical reaction that takes place when silver is exposed to air, causing its surface to darken. Owners of antique jewelry often value this patina as an enhancement of the jewelry's beauty.
Some contemporary artisans take advantage of this trait and incorporate it into the design of their silver jewelry. They have even developed solutions that accelerate oxidation, so they can control the tones of tarnish and produce subtle effects that would take years to achieve naturally.
On the other hand, if what you are selling—or buying—is shine, then the darkening of silver is considered tarnish and must be polished away. This polishing is not only an inconvenience for jewelry owners, but also a chore for jewelers who carry silver pieces and artisans who create them.
Silversmiths working with the metal face the additional problem of fire scale, or fire stain. This is a purplish discoloration that occurs when copper, used as an alloy, mixes with oxygen at high temperatures. It's the bane of silver jewelry manufacturing and it cannot be polished away. Silver pieces are often silver-plated to cover unsightly fire stain that occurred in the manufacturing process.
A new epoch for silver
Dramatic changes began in 1990 when silversmith Peter Johns began investigating the possible use of the element germanium in jewelry making. It turns out that germanium, when added to sterling silver, produces a surface oxide layer that actually keeps tarnish at bay and also prevents fire stain.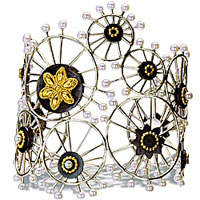 Cuff by Patricia Tschetter
The germanium-based alloy is trademarked as Argentium and there are several variants on the market. Argentium silver is brighter than platinum, white gold or traditional sterling. It is low maintenance, easy to care for and clean. Another plus: as it turns out, a side effect of the protective surface layer caused by germanium is that it renders the jewelry hypoallergenic.
Silversmiths call the fusing properties of the new alloys amazing. They no longer need to solder pieces together. Argentium silver can fuse to itself, making possible complex, multi-part pieces that would have been inconceivable before. Silversmith Bill Hoefer declares, "Tarnish-resistant alloys have given the art of silversmithing its biggest boost in centuries."

More innovations with silver
One jeweler uses platinum and palladium as silver alloys. In addition to eliminating tarnish, these metals give silver greater strength and durability, so the jewelry needn't be as bulky as with copper alloys.
And there are more inventions in the making. Scientists in Britain are experimenting with a way to make silver (and gold and other metals) appear to be different colors. The method involves embossing tiny raised or indented patterns onto the metal's surface. The embossing doesn't alter the chemical composition of the metal. It merely changes how the wavelengths of light are absorbed and reflected, thereby changing how the color is perceived by the eye. In the future, silver jewelry may appear in a rainbow of colors, perhaps even several colors in the same piece.
"The new gold"
Silver has been regarded as a precious metal for thousands of years, but it's not nearly as costly as gold. On a typical day this past month, silver was trading at about $30 per ounce, while gold was hovering around $1600. In value as a raw mineral, silver is not likely to catch up any time soon.
Calling silver "the new gold" is a way of bringing attention to silver as a metal worthy of fine jewelry. Silver jewelry is accessible to more people because of its lower cost, and the diversity of techniques and finishes now developing means more design variety is possible. The Silver Promotion Service recommends gifts of silver jewelry to mark the 25th anniversary not only of weddings but of any event or venture. We can expect to see more of silver jewelry.
FOR AGENTS & UNDERWRITERS
Jewelry that is stamped sterling silver must, by law, contain 925/1000 parts silver.
Argentium trademark
Argentium, or Argentium silver, is sterling silver. It should carry both the Argentium trademark and be marked "sterling silver."
Although silver is considered a precious metal, it is not nearly as costly as gold.
Make no assumptions about the value of designer jewelry. For all scheduled jewelry, be sure to get a detailed, descriptive appraisal from an appraiser who is aware of the current market.
For high-value pieces, get two appraisals; at least one of them should be from an appraiser who has a GG, FGA+, or equivalent degree, and preferably who is also a Certified Insurance Appraiser™.
Jewelry, like other material objects, takes its value from the marketplace. Jewelry may be high-priced while the designer is popular, but can fall severely in value if that designer's work goes out of fashion.
FOR ADJUSTERS
Argentium silver is sterling silver, made with an alloy that causes it to resist tarnishing. Jewelry identified as Argentium should be replaced with Argentium jewelry.
A settlement is based on value at time of loss. This is especially relevant for jewelry purchased during a trend. Yesterday's fad jewelry may be worth only the value of its metal and gem material. On the other hand, a relatively unknown designer may become famous and his works may appreciate in value.
Be sure the appraisal valuation is recent and reliable.
©2000-2018, JCRS Inland Marine Solutions, Inc. All Rights Reserved. www.jcrs.com
Subscribe to Jewelry Insurance Issues