Tiffany v. Costco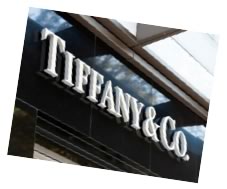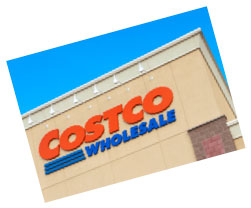 Happy Valentine's Day! On February 14, 2013, Tiffany & Co. filed a suit against Costco for selling diamond engagement rings falsely identified as "Tiffany" rings. The suit alleges trademark infringement, counterfeiting, deceptive business practice, and false advertising, and asks for all profits from the ring sales plus damages of $2 million per infringement.
It's a battle of giants. Both parties are respected international retailers. Although their popular images are miles apart—Tiffany a prestigious purveyor of luxury creations, Costco a warehouse seller of discounted high quality merchandise—the two stores are both jewelry giants. National Jeweler ranks Tiffany in 3rd place and Costco in 9th place as jewelry "supersellers."
Costco shoppers are not only large families stocking up on bulk household goods and packaged food. Marketing research shows that Costco consistently attracts a large number of "ultra-affluent" consumers (defined in this study as those with an annual household income of more than $250,000). These shoppers are looking for "treasures," high value items at lower prices. Treasures like large screen TVs, name brand jeans, luxury watches, and diamond engagement rings.
Tiffany's counsel argued that everyone knows how buying something on a street corner or from an unknown source is risky, but Costco customers were taken in because members expect authentic brand merchandise. Signage in the store identified these rings as Tiffany jewelry and the sales clerks called them Tiffany rings. The suit charged that hundreds, if not thousands, of buyers thought they were getting authentic Tiffany jewelry. At least one prominent legal firm is investigating the possibility of a class action suit against Costco on behalf of these customers.
What's in a name?
Manufacturers of luxury goods want to protect their name and reputation. Tiffany has often been victimized by fakes and knockoffs (see our issue on the risks of Ebay purchases) and closely monitors internet sites for ersatz Tiffany jewelry.
Costco says this is not a case of counterfeiting.
In response to the suit, Costco argued that "Tiffany" is a generic term, commonly used for a particular gem setting. It cited several sources, from Dictionary of Gems and Gemology to Wikipedia to Wedding Planning for Dummies. All agreed that a Tiffany setting means setting a solitary stone on 4-6 prongs, and that the setting was commonly used for diamond solitaire engagement rings. Some sources just called it Tiffany Solitaire, without saying setting or mounting.
| | |
| --- | --- |
| Tiffany mounting  |  Tiffany mounting from Tiffany |
In addition, Costco showed that its presentation box is very unlike Tiffany's signature blue box with white bow; the rings Costco sold were not engraved with the Tiffany name; and the appraisal and IGI certificate that accompanied the purchases did not identify the rings as Tiffany jewelry.
In short, Costco argued that the company did not fool customers into believing they were buying jewelry made by Tiffany. It merely used a common jeweler's term.
It appears that Tiffany did not do enough to protect its name. The law says that once a term is in common use it is not protected. Kleenex, for example, spent a fortune to keep competitors from using its name. It pushed the phrase "facial tissue" in order to preserve its trademarked brand, and was successful. Tiffany probably comes too late with its objections, as the term has been used in the jewelry industry for over 15 years.
Insurers are watching this case
The lawsuit has yet to be decided, and the outcome may well affect jewelry insurers. Because of its prestigious name, Tiffany can and does charge a much higher price than other manufacturers, even for a simple design like the solitaire engagement ring. Tiffany generally will not work with insurers on claim replacements, so right now, many insurers who are faced with generic Tiffany jewelry write an agreed value policy. But this is changing. Insurers are increasingly aware that fraud can occur at every price point, including high-value merchandise. In such generic type jewelry, about 90% of the value of the piece is from the center stone, which is of typical cut and quality. Insurers are unwilling to pay inflated prices for such generic gems that are readily available in the marketplace.
It would be better if insurers could replace with like kind and quality—a gem of the same qualities in a setting of the same style and material—regardless of manufacturer. The result of this suit may allow us to move in that direction.
FOR AGENTS & UNDERWRITERS
For any high-value jewelry, insist on a detailed, descriptive appraisal, such as on JISO 78/79. This descriptive information is what you need to price a replacement. Especially important are the stampings/engravings of quality and trademarks, which today can easily be conveyed with a picture.
If it is a ring that comes from Tiffany (or any other seller), you may want to base premiums on the sale price, but an adjuster will usually base a settlement on the jewelry's value at time of loss (not exceeding the scheduled limit).
Ask for the sales receipt. Counterfeit jewelry abounds, so pay attention to these red flags:
Was the jewelry bought on eBay or anywhere online?
Is the valuation far higher than the sale price?
Is the valuation on a printed certificate supplied by the seller?
If the answer to any of these questions is Yes, and the jewelry is high-priced, insist on an appraisal from an independent appraiser who is a GG, FGA+ or equivalent, and who has advanced training in appraising for insurance, such as a Certified Insurance Appraiser™(CIA).
FOR ADJUSTERS
If the jewelry was purchased on the internet, be very suspicious of the stated quality and valuation.
A huge discrepancy between selling price and valuation is a strong indication of inflated valuation.
If the jewelry is a brand name, look for evidence of authenticity.
Adjusters would be well served to learn what a "bill of material" is and how the "cost approach" is applied.
©2000-2018, JCRS Inland Marine Solutions, Inc. All Rights Reserved. www.jcrs.com
Subscribe to Jewelry Insurance Issues