Jewelry with a Story

Valuation for jewelry is generally based on the quality of its ingredients—the 4 Cs of the gems, the fineness of the gold, the design and craftsmanship, and so forth. Value increases when the jewelry has a special story, a place in history.
Your grandmother's wedding ring is likely to be important to you because it's part of your family story. For buyers in general, gems with a legend, a superstition, a lineage of owners, get more attention. Items belonging to a duchess or a movie star regularly bring higher prices at auction as the jewelry takes on glamour from its previous owners.
Here's a colorful story that's pure Americana.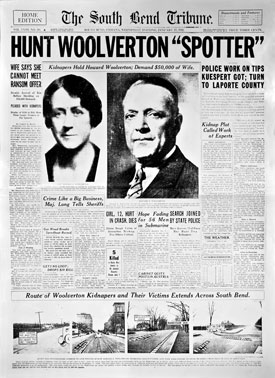 It was late on a January evening in 1932, early in the Great Depression. Howard A. Woolverton and his wife Florence had just left the estate of their friends Mr. and Mrs. George Milburn Studebaker, the automobile magnate. Suddenly a man brandishing a gun jumped onto the running board of the Woolvertons' Pierce Arrow and forced them to a stop. The couple was being kidnapped!
The Woolvertons were community leaders in South Bend, Indiana, with business and banking interests in South Bend and Chicago. This was the first kidnapping by George "Machine-Gun" Kelly who, along with the likes of Pretty Boy Floyd and Baby-Face Nelson, made up the notorious Midwest crime wave of the early Thirties.
The Woolvertons were taken to a remote location. Howard Woolverton was held there, while his wife was forced to deliver a ransom note for $50,000 (millions by today's standards). That was a huge sum even for a banker to lay his hands on; with banks failing after the Crash of 1929, and people with money weren't putting it in banks!
The Machine-Gun Kelly kidnapping made major headlines. J. Edgar Hoover and the FBI became involved, though details of the case appear to be still shrouded in mystery. Even after Woolverton was released, the couple continued to fear for the safety of their young daughter, Mary Elizabeth, as threats and extortion demands continued.
The Woolvertons lived in constant fear until Kelly was imprisoned in Alcatraz in 1934. He was among one of the first groups of prisoners sent to the notorious federal prison in the icy waters of the San Francisco Bay.
The Woolverton kidnapping occurred months before the Lindbergh baby was abducted. It was the first impetus for the federal kidnapping laws that were soon enacted.
| | |
| --- | --- |
| Diamond Clip Bracelet | Brooch with Seed Pearls |
| | Art Nouveau Brooch |
| | |
The Jewelry
Jewelry dating from that period already has an aura. The story of the kidnapping only enhances the appeal of items owned by the Woolvertons. Jewelry like that in the Machine Gun Kelly Kidnapping Collection could not be made today.
The piece shown at the top, for example, is a platinum diamond and sapphire bead bracelet with a large star sapphire. Each bead in the bracelet is gem-quality sapphire, and they are strung on platinum. The central star sapphire is of a quality that could not be found today, for all the best material has been mined out. This jewelry, like most pieces of that period, is not signed. Yet the craftsmanship suggests that they were the work of a premier European jeweler of the day, comparable to Cartier or Van Cleef.
Today one would be hard-pressed to find a craftsman capable of this quality of workmanship; it would be possible, though very expensive. Yet it would still not be possible to reproduce this jewelry because gems of comparable quality are simply not available today. Pieces like this stand on their own as irreplaceable, and the provenance adds significant value.

FOR AGENTS & UNDERWRITERS
All fine jewelry you insure should be accompanied by a detailed appraisal and photographs. Best is a JISO 78/79 appraisal, prepared by a Graduate Gemologist who is also a Certified Insurance Appraiser™.
Jewelry that takes on additional value because of its previous owners, place in history, etc., should be appraised by a jeweler/appraiser who deals in such special items and can reliably state their value in the marketplace.
For provenance, be sure there is sufficient supporting documentation.
Items valued because of their history would be irreplaceable if lost or irreparably damaged. For such jewelry, an agreed value contract is a must.
Jewelry that includes gems of a quality no longer available should also be on an agreed value contract, since the stones would be irreplaceable if lost or damaged.

FOR ADJUSTERS
If valuation depends on the jewelry's history, be sure there is sufficient documentation to support provenance.
If a unique piece is damaged, have it examined by an expert. Some kinds of damage can be repaired, while in other cases the piece would lose value if repaired. Only an expert can make this call.
If damage is such that you pay the claim as a total loss, always take possession of the salvage. You may be able to have the piece repaired, and then sell it. Or you may offer it for sale to an expert, who will assume the risk, repair it, and sell it for his own profit. Or the piece may be irreparably damaged but have component gems or metals that still have value.
©2000-2018, JCRS Inland Marine Solutions, Inc. All Rights Reserved. www.jcrs.com
Subscribe to Jewelry Insurance Issues