Jewelry 24/7 – Electronic Shopping
There was a time when buying jewelry was an exceptional event: the hush and elegance of the environment, the experience of walking up to a display case and peering closely at something small, beautiful and precious.
Today you can browse for jewelry while waiting in line for your latte or in the middle of the night when you can't fall asleep.
TV shopping channels, with their internet streaming, are a multibillion-dollar business. Jewelry shopping channels and online stores are surviving the worldwide recession better than brick-and-mortal jewelry stores.
Convenience is a big draw, the anonymous, stream-of-consciousness surfing. As one online seller put it, buying on the internet or on the phone takes away the intimidation factor of walking into a fine jewelry store.
The sales approach is deliberately unthreatening. As though shopping for jewelry were a bitter pill to be swallowed, one channel hypes its jewelry presentation as "fun and entertaining." It entices viewers by introducing the designers and celebrities behind the product line. It tells the "story" behind the jewelry.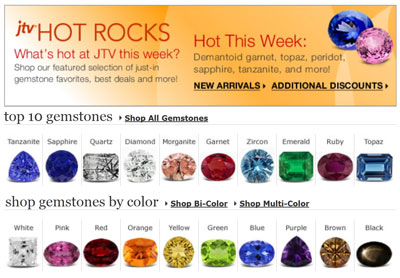 What is selling?
Colored stones are a major seller, because they show up better than diamonds on a TV or computer screen. In fact, one financial expert associated with Gems TV asserted that "color as a jewelry category exists because of TV."
Tanzanite is a good example. It's a rich blue and very affordable, and it has a good story. Tanzanite was just discovered in 1967, in the foothills of Mount Kilimanjaro in Tanzania, and was first promoted as a gemstone by Tiffany & Co. Deposits are limited, so the gem is rare—"a thousand times rarer than diamond," as one site exclaims. That has appeal because of the unspoken assumption that rarity increases value and signals status. However, agents and insurers should be aware that only the marketplace determines jewelry value.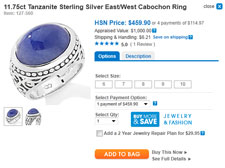 Tanzanite, despite its rarity, is not a high-value stone. It is a relatively soft gem (it can be scratched) and also not very tough (it can chip), so some jewelers consider it unsuitable for rings, bracelets and other jewelry that might be exposed to impact and abrasion. Some jewelers who deal in fine quality gems do not even carry tanzanite, and insurers should be wary of covering jewelry so vulnerable to damage.
CZ (cubic zirconia, an imitation diamond) is also popular. On one site, pressing the link for Diamond brings up a page on CZ. Certainly on the screen CZ looks as good as diamond, at only a tiny fraction of the price.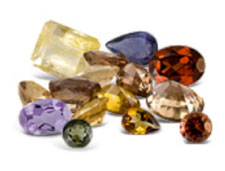 Loose stones are also big sellers. Jewelry Television claims to be the largest retailer of loose gems in the country. It's hard to know what becomes of these stones. For a consumer to find a jeweler to create a setting for loose stones can be difficult and expensive. From an insurer's point of view, it's not wise to insure loose stones (in fact, many personal jewelry policy forms specifically exclude "unmounted gems") because they can easily get lost; consumers do not have a jeweler's facilities and procedures for keeping loose gems safe and accounted for.
TV and internet retailers are steadily reaching into higher-end and specialized markets. Engagement rings, for example.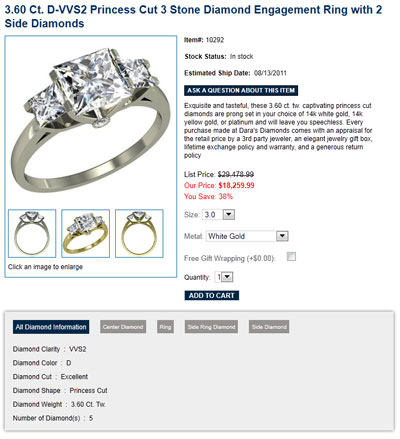 Regarding this ring, an insurer might want to consider the following:
This 5-diamond ring sells for $18,259.99, purportedly reduced from $29,478.99; that's 38% off list. Is such a discount likely? Does the ring ever sell for this "list price?"
The ring comes with an "appraisal certificate" verifying the list price—but the appraiser/lab issuing the certificate is not named. As we have frequently advised, insurers should not take at face value an appraisal supplied by the seller, but should suggest getting an appraisal from a disinterested appraiser who is a graduate gemologist, and preferably a Certified Insurance Appraiser™.
A diamond certificate is only as good as the lab that issues it. Depend only upon reports from trustworthy labs, such as GIA, AGS and GCAL (see links below).
The stones are princess cut, a shape having sharp corners that are vulnerable to damage. Some insurers regard this as inherent vice and/or choose not to insure princess cut diamonds.
TV shopping and Internet sites are reaching ever-expanding audiences through banner ads, manic search engines, ubiquitous smart phones, emails lists culled from logon info, and the electronic equivalent of word-of-mouth, blogs.
FOR AGENTS & UNDERWRITERS
For all high-value jewelry, ask for a second appraisal on JISO 78/79, written by a Graduate Gemologist who is also a Certified Insurance Appraiser™.
Always get a copy of the sales receipt — especially for jewelry bought from TV and internet retailers. TV sellers may make claims about high value, but purchase price usually reflects the true quality and value of the merchandise.
We recommend trusting diamond reports only from the following respected labs. You can follow these links to check the veracity of lab reports you receive.
Gemological Institute of America GIA Report Check
American Gem Society AGS Report Verification
Gem Certification and Assurance Lab GCAL Certificate Search

FOR ADJUSTERS
Be suspicious of appraisals, lab reports, or other documentation supplied by the seller. Often crucial information is left out or quality is misrepresented.
For example, one TV shopping show states, in a general description of diamond on its website, that diamonds are often irradiated. It's probably true that the diamonds they sell are irradiated. However, this treatment lowers a diamond's value and should be specifically stated on the appraisal.
If there is a large discrepancy between purchase price and valuation, the purchase price is a better indication of the jewelry's true value.
In the absence of a detailed appraisal on JISO 78/79, make every effort to determine where the jewelry was purchased. This information can often help pin down details of the jewelry's qualities and lead to a realistic valuation.
©2000-2018, JCRS Inland Marine Solutions, Inc. All Rights Reserved. www.jcrs.com
Subscribe to Jewelry Insurance Issues