Pair & Set Jewelry Claims and the Accidental Tourist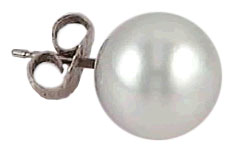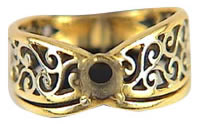 OK, not all partial loss jewelry claims happen on vacation but what if……
An earring is lost.
A fancy earring with a complicated setting is lost.
A stud is missing.
The center stone of a ring is lost.
A diamond in the ring is chipped.
Are such claims settled as total losses?
A jewelry industry publication recently carried an article explaining to appraisers how jewelry insurance works. It stated that, in most cases like those above, the insurer would settle the claim as a total loss and the client would then surrender to the insurer whatever remained of the jewelry.
A total loss settlement may be what jewelers and appraisers expect and want but it's not what most policies provide. In fact, quite the opposite, as can be seen below.
ISO's Personal Inland Marine Common Policy Provisions (PM 00 01 12 02) Loss To A Pair, Set Or Part (D1(3) states:
If the article or item is a pair or set or consists of several parts when complete, we may elect to:

(a) Repair or replace any part to restore the pair or set to its value before the loss;

(b) Pay the difference between the actual cash value of the property before and after the loss; or

(c) Pay for the value of the part lost or damaged.
In short, loss or damage to a pair or set does not require replacing the entire pair or set, or paying the limit of liability for the entire pair or set. In fact, several states have altered this language. Texas, for example, has eliminated the (b) option.
When "total loss"= Overpayment
Settling a lost earring as a total loss is an advantage to the jeweler (and the appraiser working with a jeweler), since that generally results in a new jewelry purchase (and new appraisal). But this is often an unintended betterment. Simply having the lost earring replaced is what the policy intended and it mitigates the loss.
If, as an insurer, total payouts on pair & sets have been your practice, you've been overpaying settlements.

Some examples from insurers' files (overpayments would likely be even higher today):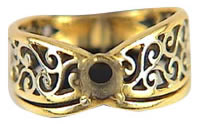 A claim was made on this ring for a lost stone. The insurer paid the full price of the ring, whereas the company could simply have had the stone replaced.
Overpayment: $2,656 ++?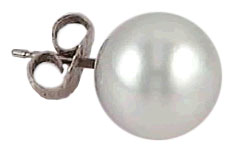 A pearl earring was lost, and the selling jeweler said a mate could not be made. A glance at the picture shows a simple design that could easily have been duplicated. A mate could have been made for as little as $150, but the company paid the full limit of liability.
Overpayment: $1,100 ++?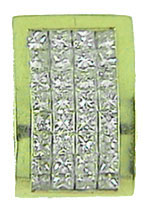 One earring was lost. It had lots of small diamonds, but the picture shows a design that could easily be replicated, rather than paying out a total loss.
Overpayment: $4,206 ++?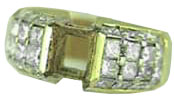 In this case, the center stone on the ring was chipped. The company paid it as a total loss, but simply replacing the stone would be easy. Overpayment: $11,780 ++?
Jewelry's "uniqueness myth"
Consumers tend to believe their jewelry is unique. This impression is promoted by many jewelers and appraisers because it makes consumers feel good. And adjusters, regarding appraisers as the jewelry experts, often buy into the uniqueness myth as well.
Why did the jeweler who sold the pearl earrings above tell the adjuster that another could not be made? Surely not because that earring was unique and unmatchable. One assumes the reason was to be able to sell the customer a new pair (at the insurer's expense!).
The fact is that much jewelry comes from suppliers. Not only chain outlets like Jared's but also independent jewelers use these suppliers. Even a piece of jewelry that looks expensive and complicated can usually be duplicated. With one earring in hand, it should be easy to price a mate.
Replacing a damaged stone is also not difficult, since a gemologist can see the exact qualities of the original stone. Even if a stone is lost, a replacement can be made based on the description in the appraisal.
About Agreed Value
One result of the uniqueness myth is that jewelry sometimes gets written for Agreed Value.
There is very rarely reason to write jewelry as Agreed Value. The vast majority of jewelry is prior art, meaning a style that's been around for some time, so there are no copyright issues.
There are some exceptions. A necklace that belonged to the Duchess of Winsor would be a good candidate for Agreed Value, since provenance accounts for some of the jewelry's value. In very few cases a gem of substantial size or extraordinary quality may no longer be available, making that jewelry irreplaceable. But most jewelry—from Macy's or Zales or even from high-end jewelry stores—can easily be duplicated, and most stones can be replaced.
Obviously that's not the case with unique designer pieces, but there are a few of things to keep in mind about "designer" jewelry:
Just because jewelry comes from a high-end store does not mean it's a designer piece.
Gem jewelry derives much if not most of its value from the gem(s).
Even in unique designer jewelry, the designer creates the setting but does not create the gems. In fact, large stones for the jewelry are usually selected by the jeweler. A diamond is chosen for its qualities (the 4 Cs), and it can be replaced by an insurer-sourced diamond of like quality.
Insureds should be warned that Agreed Value means higher premiums, and usually is beyond the coverage necessary.
FOR AGENTS & UNDERWRITERS
To avoid overpayment on a future claim, get the sales receipt and compare the price paid to the valuation on the appraisal.
If this practice reveals an appraiser who regularly writes grossly inflated valuations, you may choose to not accept appraisals from that appraiser.
It's your responsibility to remove moral hazard. Get a current picture of the jewelry to verify that the jewelry exists and is in the possession of the insured.
FOR ADJUSTERS
Review possible policy amendments to the Common Policy Provisions by your state and your company that may affect your settlement options.
Review all documents on file—appraisals, sales receipts, diamond reports. If some of these documents are lacking, ask the insured for them.
Comparing purchase price to the appraisal valuation is a useful way to avoid overpayment, as the price is a truer indication of market value than a possibly inflated valuation.
If sales receipt is missing, it can be obtained from the jeweler. The IRS requires that sales receipts be held for at least 3 years, and commercial insurance carriers require this as well. In truth, most jewelers rarely purge their files, so usually more years are available.
Have the customer go to the seller and ask for this information. Retailers will be reluctant to cooperate with you, the adjuster, but they are more likely to accommodate their customers.
For pair and set claims, have the surviving jewelry examined by a qualified gemologist (GG or FGA+) to verify that the quality of the gem and jewelry is as stated on the appraisal.
A mate can usually be made for a lost earring. Submit the surviving earring to price a replacement.
Avoid going to the selling jewelry for repair or replacement, as it is in his interest to sell a new piece rather than do a repair or make a mate.
©2000-2018, JCRS Inland Marine Solutions, Inc. All Rights Reserved. www.jcrs.com
Subscribe to Jewelry Insurance Issues