What's a Certified Appraiser?
Unlike the insurance industry, jewelry appraising is completely unregulated. Literally anyone can call himself or herself an appraiser.
Yet an appraiser's qualifications are always important for insurers because: if an appraiser is not properly qualified, how can the appraisal be trusted?
It's the training that matters, not how many certificates are on the appraiser's wall, not impressive-sounding titles or mysterious letters after the appraiser's name.
Know what credentials to look for.
The following example, from one insurer's records, is ultimately about appraiser credentials, but it also brings up a few situations that all insurers encounter and should pay attention to.
The insurer received a submission for coverage on several pieces of jewelry.
It is this insurer's practice to ask for sales receipts on recent purchases (a good idea!). The receipt submitted showed the purchase price to be less than half of the appraised valuation - a grossly inflated valuation.
Retail jewelers often inflate valuations so customers feel they are getting a bargain. Customers are led to believe the valuation is what the jewelry is "really worth", and they wrongly assume that an inflated appraisal works in their favor for insurance. The underwriter checked and, sure enough, the appraisal was from the seller.
The appraiser's signature was illegible, and there was no indication of appraiser credentials. An appraiser who is proud of his work, and who wants the client's future business, will have his name printed on the appraisal. An illegible signature, with no printed name, is a warning sign for the insurer to be wary.
Suspecting that all the valuations from this retailer were inflated, the insurer asked the client to get appraisals from a Graduate Gemologist.
The client returned to the agent, not with new appraisals but with a photo of her retailer's credentials. That photo is shown above. These 6 certificates all bear the name of the Gemological Institute of America, highly regarded for its gem-grading lab and its Graduate Gemologist Program. The GIA name might put a lot of insurers at ease – but let's see what exactly these certificates signify.
About GIA Diplomas & courses

GG (Graduate Gemologist)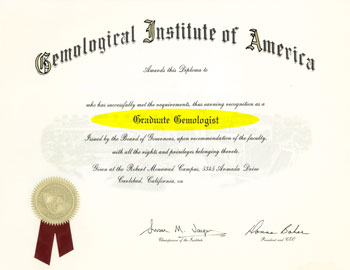 The GIA offers the internationally respected Graduate Gemologist degree. GG after an appraiser's name signifies superior training that is recognized around the world.
The GIA credential that insurers should look for is Graduate Gemologist. The GG program takes 26 weeks on campus, or study is available online. In either case, the course includes in-depth study and lab work with both diamonds and colored gems, and requires passing a proctored, closed-book exam.
A Graduate Gemologist knows this degree has recognized value and will usually put GG after his signature on the appraisal, and not have to bother passing out photographs of his wall of certificates.
Non-GG courses from GIA
However, GIA also offers a number of courses that do NOT lead to a Graduate Gemologist degree.
Certificates pictured at the beginning of this article, for example, attest that the appraiser completed classes in Diamond Essentials, Jewelry Essentials, and Colored Stone Essentials. These courses are part of GIA's "eLearning curriculum," where students are invited to work "at your own pace and from the convenience of your computer." These online classes include no labs - no hands-on or eyes-on work with gems! And they have open-book exams.
A student who completes those 3 courses is awarded the diploma for Accredited Jewelry Professional (AJP). The Jewelry Professional Program, according to the GIA site, is designed to help students "answer customer questions with confidence and poise" and to prepare students for careers such as jewelry sales clerk, pawnbroker, and television shopping host. In short, this program trains students in selling jewelry, not in gemology.
Here's another measure of the lack of depth: Pursuing the AJP program online, a student can take as long as 18 months for each course. If he chose to complete the 3-course program on campus, and get those 4 certificates, it would be done in 5 days.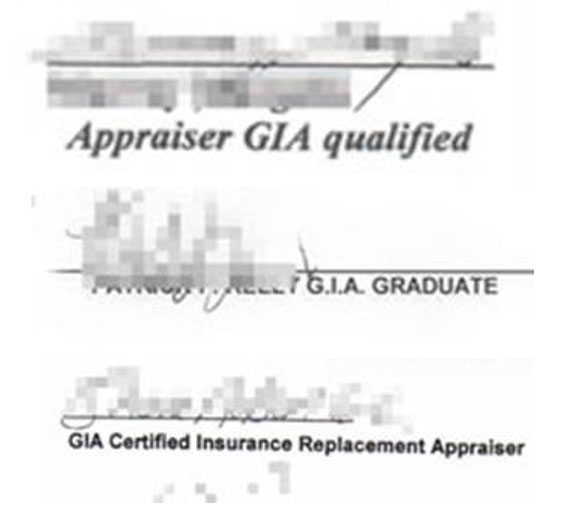 Taking a single course from GIA could technically make the person a GIA graduate, but a course in how to be a confident sales person does not qualify the student as a gemologist or appraiser.
Nevertheless, some appraisers will use "GIA" below their signature, just to take advantage of the GIA brand. The picture shows some of the misleading "titles" we've seen.
NOTE: GIA does not teach appraising. It does not "qualify" or "certify" appraisers – so we can see at a glance that a couple of the titles in this illustration are bogus.
Appraisal: Evaluation + Valuation
An appraisal for insurance needs two things: a gemological evaluation (a description of the gem in accurate gemological language) and a valuation (an assessment of the jewelry's value in the marketplace). Of the two, valuation is less important to insurers; it is used to set premiums, but the settlement is based on valuation at time of loss. Once the jewelry is gone, the appraisal's description is used to determine the valuation.
Two credentials most highly regarded as indicators of thorough training in gemological evaluation are GG (Graduate Gemologist of the GIA) and FGA+ (Fellow of the Gemmological Association of Great Britain). The + after FGA is important, because it means that the titleholder has taken advanced courses in both gemology and diamond, and has passed demanding exams.
A simple rule of thumb is: an appraiser who is a GG or FGA+ will say so next to their signature.
To increase your awareness of credentials that are inadequate and even bogus, see Credential Conundrum.
Certified Insurance Appraiser™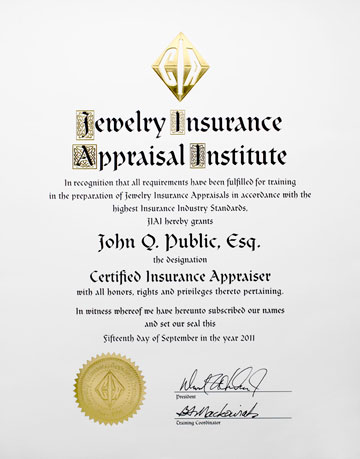 Several courses teach jewelry appraising, but they are not geared to appraising for insurance. Because insurance appraisals need detailed jewelry descriptions, we recommend seeking out a Certified Insurance Appraiser (CIA).
A CIA is a GG or FGA+ who has additional training in how insurers use jewelry appraisals. The CIA program teaches how to express gemological characteristics in a manner understandable to insurers and how to assess proper valuation.
Appraisers with this qualification will have CIA after their signature.
It is worthwhile for agents to connect with a CIA in their area, so they have a reliable appraiser to recommend to insureds.
FOR AGENTS & UNDERWRITERS
The reliability of an appraisal depends on the training, expertise and honesty of the appraiser. The training is easiest for a non-gemologist to assess, since the appraiser will generally indicate his credentials after his signature. If there are no letters after the appraiser's signature, she/he may have no formal gemological training. In that case you may want to request an appraisal from a qualified independent appraiser.
We recommend that insurers look for the following credentials:
GG Graduate Gemologist, trained at GIA.
FGA+ Fellow of the Gemmological Association of Great Britain. (The + is important in this title. It means that the titleholder has taken and passed advanced courses in both gemology and diamond.)
CIA Certified Insurance Appraiser. A CIA is a GG or FGA+ appraiser who has additional training in appraising for insurance from the Jewelry Insurance Appraisal Institute.
Recommend that policyholders obtain appraisals on the JISO (formerly ACORD) industry standard forms. The JISO appraisals are in a standardized format, making it is easy for underwriters to determine that all necessary information is included. (An appraisal by a CIA will include JISO 78/79.)
Be wary of appraisals from the retailer who sold the jewelry, as both the valuation and the quality of the jewelry are likely to be inflated. Request an appraisal from an appraiser independent of the seller.
FOR ADJUSTERS
If you are not working with a JISO 78/79, 805, or 806, use JISO 18 Jewelry Appraisal and Claim Evaluation to organize data from various documents, such as appraisals and diamond reports. If too much information is lacking and the jewelry's valuation is substantial, consider consulting your in-house jewelry expert to avoid overpayment.
When pricing a replacement, use your JISO 18 evaluation form to gather information from all available documents.
Do not give the replacement jeweler the appraisal valuation. Replacement quotes are generally 80-90% of the valuation, which may well be higher than retail if the valuation was inflated to begin with! You will get a more honest price if you have the jeweler submit a bid based on the jewelry's description rather than on the appraisal valuation.
A valuation that is well above the selling price is probably inflated. Base the settlement on the description of the jewelry, not its valuation.
Be aware that if you are dealing with an unreliable or questionable appraisal, not only may the valuation be inflated but also the qualities.
©2000-2018, JCRS Inland Marine Solutions, Inc. All Rights Reserved. www.jcrs.com
Subscribe to Jewelry Insurance Issues