Paraiba Tourmaline – What's in a Name?
Rubellite
Click to enlarge
In this case, it could be a lot of money. "The good name of Paraiba itself has been highjacked," claims the CEO of Paraiba.com, which has filed a $120 million lawsuit over how the word Paraiba can be used.
Tourmaline is a colorful stone. It's sometimes called the gemstone of the rainbow, because so many colors are possible. Some individual color variants even get their own names: intense red tourmaline is known as rubellite, for example, and blue is called indigolite. Often two or more colors appear in the same piece, as in the tourmaline that has red surrounded by green, which is known as "watermelon."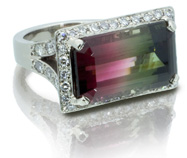 Watermelon
Click to enlarge
They say each tourmaline is unique. Some change color in different lights, some are differently colored depending on the angle from which they're viewed. The price range is large, with value depending on the richness of the stone's color.
Then there's Paraiba tourmaline, and that's another whole story—and a controversial one.
A Little Background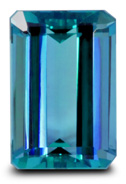 Paraiba
Click to enlarge
In the mid 1980s an unusual tourmaline was discovered in the Brazilian state of Paraiba. It had traces of copper and manganese, which produced colors that ranged from—in the words of one jewelry trade journal—"dark sapphirelike blues to neon Windex blues to neon Scope mouthwash greens." Not very appealing metaphors, perhaps, but really striking colors in a gemstone.
The rare tourmalines immediately commanded top prices. Some Paraiba specimens sold for tens of thousands of dollars per carat.
But after a few years, mines in Nigeria began turning out tourmalines that resembled the Paraibas. And then mines in Mozambique. "Is Mozambique the new Paraiba?" wondered one gemologist. Purists wanted to distinguish Brazilian paraiba from African copper-bearing tourmaline.

Paraiba
Click to enlarge
Eventually, the Laboratory Manual Harmonisation Committee (LMHC)—an international group formed by seven major labs to create standardized report language—stepped in. After much consideration, they decided paraiba (lower case) could be used to describe any tourmaline, regardless of provenance, that displayed the electric colors and intense saturation characteristic of the tourmaline originally mined in Paraiba. That is, paraiba would describe the color of the stone, not where it came from. As a separate entry, a lab could give the country of origin.
AGTA (American Gem Trade Association)'s Gemological Testing Center, for example, issues three types of of tourmaline reports:
paraiba-color tourmaline and country of origin
praraiba-color tourmaline without listing origin
copper- and manganese-bearing tourmaline that lacks the paraiba-type color intensity
The first 2 reports carry a comment stating that this variety "is also called paraiba tourmaline in the trade" and that such stones may come from a number of different localities.
The Lawsuit
Paraiba.com sells tourmaline jewelry and gems. It uses only stones that come from Paraiba in Brazil, not what it calls "African look-alikes." The suit claims that the LMHC and its affiliate labs have taken the provenance classification and redefined it as a color variety classification.
It charges AGTA and others with unfair competition and business practice. David Sherman, CEO of Paraiba.com, claims their actions have diminished the value of his company's rare gems and cost him devastating financial losses. Because tourmaline from the Paraiba mine is limited, the value of existing stones has increased over time. Redefining "paraiba" to include stones from other sites dilutes the value of "real Paraibas."
For some gems, provenance can dramatically affect price. Sapphires from Kashmir, Burma, and Sri Lanka (Ceylon), for example, fetch some of the highest prices because of their superior clarity, hue and saturation. It would be a business coup if tourmaline from Paraiba could have a cachet similar to that of sapphires from Kashmir. However, gemologists are finding that the striking coloration first found in Paraiba tourmaline is also seen in tourmaline from other mines.

Business profits aside, gemologists themselves are divided on whether gems from African mines—or other mines that might be discovered—should be called Paraiba. AGTA said gem traders "asked gemological labs to describe the gems on lab documents as 'paraiba' tourmaline. This forced labs to come up with a definition." But some gemologists say lab reports should just describe the stone and leave the names to business marketing departments.
The defendant calls the suit totally without merit. The plaintiff claims the redefinition causes confusion and that ultimately the public is being harmed. Stay tuned . . . .
What It All Means for Insurers
We'll let you know when and how the suit is settled. For now all you need to remember is that "paraiba" (or "Paraiba") is a loaded word when it comes to valuation. Follow the cautions below.
FOR AGENTS & UNDERWRITERS
"Paraiba" tourmaline commands a high price, so some sellers are likely to extend the reach of the word as far as possible.
Your client may present an appraisal from the seller. For high-value tourmaline, be sure to also get an appraisal from an independent jeweler/appraiser who is a Graduate Gemologist, preferably a Certified Insurance Appraiser™.
Ultimately it's quality that gives tourmaline its value. Be sure the appraiser is a jeweler who regularly deals in these stones, is aware of the current controversy over nomenclature, and is qualified to describe the colors appropriately and to judge value.
How the lawsuit is resolved may affect the future value of gems called "paraiba" tourmaline.
High-value tourmaline should be accompanied by a report from a reliable lab (such as AGTA, AGL or Gübelin). It's best to have the report include the gem's country of origin. (The insured can take the jewelry to his own jeweler, who will send it to a lab that has the equipment and expertise to determine gem origin.)
FOR ADJUSTERS
Caution! Prices are volatile in this kind of market. When a new gem material is found, it can fetch a high price. But the novelty may be a fad that eventually wears out, and the value goes down. Or new sources of the gem are discovered, the uniqueness is diluted, and the value declines. Where rarity is at issue, price can change quickly. However the Paraiba suit is decided, it will have an impact on valuation of this stone.
When settling a claim on Paraiba tourmaline, be sure to consult a jeweler who regularly deals with tourmaline and can determine quality and valuation in the current market.
Not only the provenance of tourmaline but also the quality of the gem is important in determining valuation. Look to the appraisal for details, especially in the color description.
If the country of origin is not given for Paraiba tourmaline, use every means possible to determine it. If necessary, consider consulting your jewelry insurance expert to avoid overpaying a settlement.
©2000-2018, JCRS Inland Marine Solutions, Inc. All Rights Reserved. www.jcrs.com
Subscribe to Jewelry Insurance Issues