Tanzanite – Warning: Fragile!
In beauty, tanzanite is right up there with emerald, ruby and sapphire. In price, it's a bargain. But for insurers, a few cautions are in order.
Tanzanite is one of the newest gems around, and one of the most beautiful. It was just discovered in the 20th century, in northern Tanzania. Tiffany & Co. initially marketed it under the trade name tanzanite, and that name continues to be used in general for the gem. Tanzanite is comparatively rare, with Tanzania and Kenya being the only sources in the world.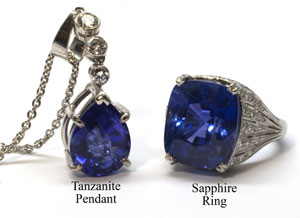 Tanzanite is blue, violet and sage green. Usually, if not always, it is heat-treated to enhance its deep blue hue, resulting in a color that rivals the best sapphire. In fact, it is often regarded as a low-priced substitute for sapphire. Tanzanite has experienced a burst of popularity over the past five years, especially in such "captive" markets as TV shopping channels and tourist cruises.
Here are a few cautions about tanzanite for insurers (and consumers):
Tanzanite is fragile
Toughness is the gemological term for a gem's resistance to breaking, chipping or cracking, its ability to hold up under mechanical stress, such as impact from a fall. Sapphire's toughness rating is "excellent," but tanzanite's is "poor to fair." This makes tanzanite a much less durable stone than sapphire.
Tanzanite would be a poor choice for jewelry likely to experience impact, like a ring or bracelet. In covering such jewelry, an underwriter might consider imposing a surcharge because of the likelihood of damage.
Tanzanite is also very sensitive to heat. The stone is likely to shatter if exposed to ultrasound cleaning or to a jeweler's torch during cleaning or resetting.
Beware of imitation tanzanite
During the past year, synthetic forsterite has suddenly started turning up in jewelry sold as tanzanite. This happens especially in Caribbean tourist markets, where tanzanite has become a trendy seller over the past several years, and in Tanzania, where tourists assume they're getting the real thing.
A traveler with no gemological training, one who is buying on impulse rather than comparison shopping and seeking out a reliable retailer, can easily be taken in. If the scam is later discovered, there is little hope of getting one's money back.
Beware of sapphire imitations —
that may really be tanzanite
Despite a visual resemblance between tanzanite and sapphire, they must not be confused because sapphire is worth far more. Fine blue sapphire or Kashmir sapphire has a valuation between $3,000 and $16,000 per carat. Exceptional tanzanite goes for about $450-500 per carat.
FOR AGENTS & UNDERWRITERS
Because tanzanite is very susceptible to breakage and chipping, it is an unwise choice for rings and bracelets. If you are insuring such tanzanite jewelry, consider imposing a surcharge.
Swindlers are taking advantage of the current popularity of tanzanite by introducing imitations, especially to unwary tourists. Be sure any jewelry purchased out of the country, or under unusual circumstances, is backed up by an appraisal that meets the insurance industry's standards, the JISO 78/79 (formerly ACORD 78/79) appraisal.
With tanzanite, as with all colored stones, it is essential that the appraising jeweler be trained and experienced in dealing with colored gems. He must be able to recognize imitations and synthetics; he must know the market for the gem he is examining and be aware of frauds and scams that may be current; and he must be able to describe, in proper gemological language, the color and quality of the gem.
The appraiser should also be a Graduate Gemologist, preferably a Certified Insurance Appraiser™.
When insuring sapphire jewelry, remember that untrained or deceitful retailers may pass off the much lower-priced tanzanite as sapphire. Again, an appraisal on JISO 78/79, by a jeweler who deals in colored gems, is your best defense against fraud and overpayment in case of a loss.
FOR ADJUSTERS
Be suspicious of any damage reported after cleaning or resetting tanzanite. This gem's fragility is an inherent vice.
On claims for colored gem jewelry, it is best to rely on a JISO 78/79 appraisal by a jeweler who regularly deals in colored gems. If such an appraisal is unavailable and other documents on file are inadequate, consider consulting a jewelry insurance expert who can help determine the accuracy of the appraisal.
Tanzanite is sometimes sold (and may be insured) as sapphire. For damage claims, be sure to have the jewelry examined in a gem lab to verify its identity and quality.
©2000-2018, JCRS Inland Marine Solutions, Inc. All Rights Reserved. www.jcrs.com
Subscribe to Jewelry Insurance Issues