Replicas—Are they the real thing?
When it comes to jewelry, what does "replica" mean? And how is replica jewelry valued?
In terms of both meaning and value, there's a broad spectrum.
Sometimes a Replica is just a reminder
The biggest story in replica jewelry these days is the production of knockoffs of the ring Prince William gave his fiancée Kate Middleton. The royal ring, which belonged to his mother Princess Diana, has a 16-carat natural blue sapphire surrounded by diamonds. Its value is put at between $150,000 and "priceless."

| | | |
| --- | --- | --- |
| Royal ring: >$150,000 | | The $99 version |
Replicas of the ring are being produced in China by the tens of thousands and sold around the world. Probably the cheapest are made of plastic and quartz crystal; they wholesale for 45 cents and retail for $3.

Obviously, these replicas are not trying to pass as valuable jewelry. They are for the souvenir market, much like an Eiffel Tower refrigerator magnet or a paperweight shaped like the Sphinx.
A slightly more upscale version is also available. On this ring, the surrounding stones are cubic zirconia — CZ, fake diamond — and the sapphire is low-cost synthetic stone. This $99 model is also just a cheap knockoff. Though its appeal is mainly as a cultural artifact, the ad copy tries to suggest that the piece is comparable to the royal ring and has enduring value as jewelry. Is anyone being fooled? If the Royal Ring crosses your desk, don't bite!
Period jewelry—making it new (& often better)
On the other end of the value spectrum is very fine replica jewelry, expertly crafted pieces patterned after jewelry styles from the past.
Jewelry styles are often associated with a particular time period, so jewelry made "in the style of" an earlier period is sometimes considered a replica. Contemporary craftsmen may replicate particular pieces from an earlier era, or they may make creative use of the signature features of that period to produce original creations.
| | | |
| --- | --- | --- |
| Brooch/pendant of 18K yellow gold with diamonds and exquisite enamel work characteristic of Nouveau, $3,000 | 18K gold and sterling silver ring with blue sapphires and cultured pearl.  $950 | Nouveau pendant of 18K white gold with diamonds.  $2, 560 |
Art Nouveau jewelry, for example, is much admired today. At its height from about 1880 to the First World War, the Art Nouveau movement was a revolt against the industrialization of jewelry-making. Jewelry of the period emphasized fluid lines, colorful enamel work and natural subjects, such as plants and the female figure.
One company has produced for modern buyers some of the same pieces it made when Art Nouveau was daring and avant-garde. These pieces are even better made than they could have been a century ago.

| | |
| --- | --- |
| Deco bracelet of 18K white gold with diamonds and sapphires in popular Greek key design. $14,000 | Deco pendant in silver and black onyx. $254 |
Art Deco's angular, geometric features are also popular today. Designers also turn to Edwardian, Georgian, or Victorian periods for style ideas. The contemporary pieces may be better-made than jewelry from the period because gem cutting and other craftsmanship techniques have improved, and certain precious gems and metals are now more available.
Even Fabergé eggs, the masterpieces made for the Tsars of Russia between 1886 and 1917, have their modern counterparts. The one shown here is from a limited edition of 75. The egg features a snake with diamonds on the body and emerald eyes. The egg opens to reveal a green enameled frog.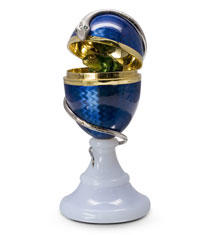 Modern Fabergé egg. $17,760
This egg is not a copy of one of the imperial eggs but was made (under license from the House of Fabergé) using techniques and materials associated with the famous eggs of that earlier time. While it is a valuable work of jeweler's art, its price does not compare with that of the Fabergé Winter Egg, made for the tsar in 1913, which sold at auction in 1994 for $5.5 million.
Bad copies of big names
Between high-quality jewelry and souvenir-grade stuff is a world of replicas, with something for every pocketbook. The Internet is full of sites trading on the name of a historical period, such as art deco, to market mediocre or poor quality merchandise.
Other sites openly advertise that their replicas are unauthorized imitations of famous name brands. One site boasts of carrying "only the most authentic looking replicas." The jewelry may come with official-looking documentation and packaging and the consumer may be fooled. Or the consumer may realize he was taken in and want to pass his loss on to the insurer through a bogus claim. See our issue on the Hazards of Fakes for more information.
Only an appraisal from a qualified and experienced appraiser can tell you what the jewelry — replica or otherwise — is worth.

FOR AGENTS & UNDERWRITERS
Style names say nothing about valuation.
Styles can go in and out of fashion, causing the jewelry to gain or lose value in the marketplace. Jewelry in a particular style may be well-made or cheaply done.
When the jewelry was made says nothing about valuation.
Neither old nor new is necessarily more valuable.
A term like "replica" says nothing about valuation.
Replicas may be cheaply manufactured or well crafted with quality materials.
As an insurer, assume nothing about value. Take the word of an expert — an experienced graduate gemologist, preferably a Certified Insurance Appraiser™. The appraiser should be someone who is familiar with the market for the jewelry being appraised.
If you are dealing with old jewelry, such as inherited pieces, it would help to review our earlier issue on antique jewelry, which discusses terminology and warns about issues of concern to insurers.
FOR ADJUSTERS
Jewelry in the style of an earlier era may originate from that period or it may be modern. Its valuation is based on its quality.
Scrutinize the appraisal. If necessary, investigate the appraiser's qualifications. Remember that appraising period jewelry requires an expertise beyond that of most jewelers dealing in contemporary pieces.
Don't take brand names at face value. There is big money in faking big name jewelry.
Be wary of high-value jewelry from unauthorized dealers, especially Internet sellers.
©2000-2018, JCRS Inland Marine Solutions, Inc. All Rights Reserved. www.jcrs.com
Subscribe to Jewelry Insurance Issues