Why you should read that appraisal
What's wrong with this appraisal? Gemological lingo can be mysterious, but sometimes even a casual glance from a non-gemologist is enough to spot a problem.
Enlarge the picture and see for yourself.
Now, this is an official-looking appraisal, received by a major insurance company with an application for insurance. It starts out well but then suddenly mentions "eight other diamonds of who knows what shape." Was the appraiser kidding?! Did he think no one would notice? Or care? Was this a little note he left for himself, intending to go back later and fill in the information, but then forgot?
You can bet the underwriter who came upon this off-hand comment examined the rest of the appraisal very thoroughly. Unsurprisingly, other information was missing as well.
Insurers rarely see such a blatant example of carelessness, but they usually see appraisals with important descriptive information left off, information that is necessary for determining the value of the jewelry.

Appraisals missing crucial information can be costly for insurers at settlement time—whether the insurers realize it or not.

Ex. 1 The appraisal above did indeed have other omissions. The description did not give color and clarity of the diamonds.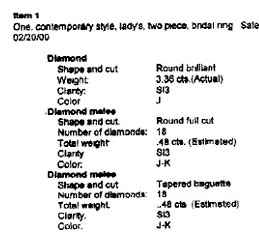 Ex. 2 Here's an appraisal that doesn't discuss mounting at all. It doesn't even say what metal is used.
Also, there's a little hocus-pocus: Clarity is described as SI3. In the GIA standard grading system, there are only two steps in the "Slightly Included" range, SI1 and SI2. The grade below SI2 is I1. The appraiser was avoiding the I1 grade because it stands for "Imperfect-1" and means that inclusions are visible to the naked eye.
Ex. 3 This appraisal has a densely-packed paragraph that camouflages a lack of information on setting and cut.


But wait, there's less.
After this jewelry was involved in a damage claim, other appraisal problems became apparent. The appraisal describes the emerald as yellow green, but examination of the damaged stone showed it to be bluish green. In addition, the gem's tone and saturation were omitted. These discrepancies and omissions are not trivial. The major determinant for an emerald's value is its color, and the descriptive language for colored gems—gemological terminology describing a stone's tone, saturation and hue—is standardized and quite precise.
An unfortunate note:
All these appraisals, like the vast majority of all jewelry appraisals for insurance, leave off information about a diamond's CUT—which means not the stone's shape but its geometric proportions. For insurers (and customers), this is a serious omission because cut proportions can account for as much as 50% of a diamond's value.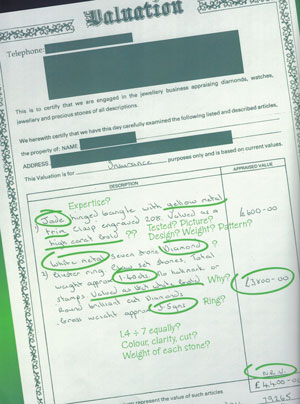 Ex. 4 A respected British journal for jewelry appraisers recently ran a piece bemoaning the low quality of jewelry appraisals in the UK. The article was illustrated with this particularly "problematic" example, a very unprofessional-looking handwritten appraisal, with a number of clumsy errors.
The appraisal does not say whether the jade bracelet is jadeite or nephrite jade; does not give the color, or say whether color is natural or treated/enhanced; omits its weight and dimensions; and omits diamond dimensions. The description of a cluster ring does not give color, clarity or cut of the diamonds. And the appraisal uses the vague phrases "yellow metal," "white metal," and "high carat gold."
Ex. 5 A handwritten appraisal like the one from the UK article certainly invites critical examination, but even professional looking appraisals can be misleading.
This appraisal is a sample from the jewelry seller's website. It looks organized and uses proper diamond-grading terminology. However, it does not specify that the gem described is a diamond simulant—that is, imitation diamond. Diamond Nexus is a seller of diamond simulants and does not conceal this fact on its website. However, the appraisal only refers to the stone as a Diamond Nexus (not a diamond). Missing this important distinction could lead to a very excessive settlement.
Reliable Appraiser
Unlike the example at the top of the page, many of the lacks described here are not things that an agent or underwriter could easily catch. This makes it all the more important to have an appraisal from an appraiser you can trust for accurate descriptions.
We suggest relying on appraisers who are professionally trained gemologists. They will usually have one or more of these credentials after their signature.
GG Graduate Gemologist of the Gemological Institute of America
FGA+ British equivalent to GG in training (be sure the "+" is there)
CIA Certified Insurance Appraiser in jewelry, appraiser is also a GG

Here again, look closely. Because GG (Graduate Gemologist of the GIA) is such a respected credential, appraisers who've taken some classes from GIA may use similar designations. "GIA Certified Appraiser," for example, is not a credential, as the GIA offers neither classes nor certification in appraising. "GIA Diamond Graduate" and other similar designation are not the same as GG. If the appraiser is a Graduate Gemologist, he or she will say so.
A CIA is a GG or FGA+ who has additional training in writing jewelry appraisals for insurance and is a graduate of the Certified Insurance Appraiser course offered by the Jewelry Insurance Appraisal Institute. They can be trusted to write the detailed appraisals that insurers need to properly insure jewelry.
Although it's not the agent's or underwriter's job to know whether info on the appraisal is accurate, the appraisal for insurance should have detailed information. JISO (formerly ACORD) appraisals are in a standardized format that prompts the appraiser for all necessary details. The agent and underwriter, looking at a JISO appraisal, can easily see that information is given because the blanks are filled in.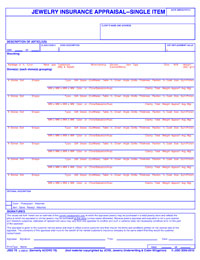 Encourage your policyholders to submit JISO 78/79 (for use by GG/CIAs) or JISO 806 (for other jewelers and appraisers) or JISO 805 (a descriptive sales receipt). Some appraisers attach a JISO appraisal to their regular appraisal, as a summary. That way the jeweler/appraiser presents his customer with a document that has his letterhead, phrasing and style, but the document also includes a JISO appraisal that makes the insurer's job of scheduling the jewelry easier.
JISO appraisal forms are available free of charge at www.JISO.org.
FOR AGENTS & UNDERWRITERS
Encourage clients to obtain a JISO appraisal from their appraiser. Explain that it summarizes for the insurer information already on their appraisal and the appraiser can easily fill it in.
An appraisal done by the jewelry seller or included with the purchase may not be trustworthy. The quality of the jewelry may be exaggerated and the valuation is likely to be inflated. Ask the policyholder to obtain an appraisal from an appraiser independent of the seller, preferably a gemologist who is a GG or FGA+ and has additional training in appraising for insurance, such as a CIA (Certified Insurance Appraiser).
FOR ADJUSTERS
Your job always is easier if you are dealing with a JISO 78/79 Jewelry Appraisal, or JISO 806 Jewelry Document for Insurance Purposes, or JISO 805 Sales Receipt, since they will give complete information in a standardized format. This information will be sufficient for you to have a qualified jeweler accurately price a replacement.
If one of the above is not available, use JISO 18 Jewelry Appraisal & Claim Evaluation form to analyze data from the documents you have. This is especially helpful if you're faced with a "narrative" appraisal. JISO 18 allows you to order the information from other documents in a useful way and see what details may be missing. JISO 18 follows the same basic format as the JISO appraisal forms.
Use the appraisal's descriptive data, rather than its valuation, to price a replacement.
©2000-2018, JCRS Inland Marine Solutions, Inc. All Rights Reserved. www.jcrs.com
Subscribe to Jewelry Insurance Issues