Moissanite's New Spin – A Gem of a Gem
"Before you think you can't afford an engagement ring," enthuses one online wedding consultant, "consider moissanite."
A moissanite engagement ring?! Heresy! The idea shocks not only wedding traditionalists but many appreciators of fine jewelry. Moissanite, after all, is the diamond-wannabe associated with scams and imitators like CZ, jewelry made for the unwary or undiscerning customer.
Advertising is now shifting that association. Sarah Ferguson, the Duchess of York, recently launched a collection of moissanite jewelry. On top of the trend, Good Housekeeping has called moissanite the new "it" jewel.
Just what is moissanite?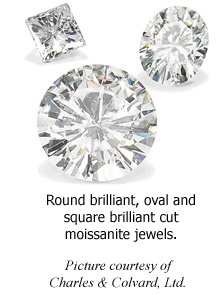 Moissanite is a naturally occurring mineral. In 1893, Henri Moissan discovered minute silicone carbide crystals in a 50,000-year-old meteor in Arizona. Later, the crystalline substance was named after him.
However — there are almost no supplies of this mineral on earth. Moissanite didn't figure in jewelry for another hundred years. Early synthetic moissanite resulted from attempts to grow diamond. Then, in the early 1990s, gem-quality moissanite began being commercially made in the lab. Virtually all moissanite used in today's jewelry is lab-grown.
In fact, moissanite can be considered a huge success story for lab-grown gems. Moissanite producers say it has more luster and brilliance than diamond, perhaps twice the fire of diamond, and it is almost as durable. (On the Mohs hardness scale, moissanite ranks 9.5 — right between diamond, the hardest known mineral, which ranks 10, and sapphire, which ranks 9.)
So is it a gem or not?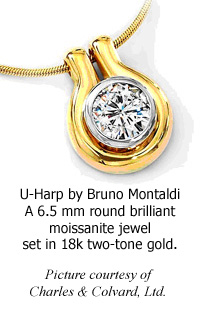 Moissanite has spent most of its jewelry life as a diamond simulant. It was cheap to produce and looked enough like diamond to attract customers who wanted diamond but couldn't afford it (or who got taken in because they couldn't tell the difference). It looked enough like diamond to fool even some jewelers. Several TV reports have exposed jewelers who appraised moissanite as diamond, pricing the jewelry at ten times its retail value.
Nothing about moissanite has changed. But it's the market — or the marketing — that makes a material a "gem." Moissanite labs and retailers are reshaping its image from diamond substitute to desirable, affordable gem.
Charles & Colvard, the source and global distributor of created moissanite, sees its primary customers as "self-purchasing women." These are women who buy jewelry for themselves, "savvy, fashionable, discerning women" who want quality and fashion "without the emotional heft of diamond." Jewelry retailers are also addressing the suitors of those women. Along with rings, earrings, and pendants are wedding sets straightforwardly advertised as moissanite, in settings of 18K gold or platinum.
It may be a gem but it's not diamond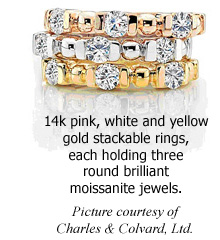 In the jewelry marketplace moissanite is competing with diamond, but a trained gemologist would not confuse them. Though visually similar to the casual observer, the gems react differently in various lab tests.
Jewelers who are not sufficiently trained, or who do not have the lab equipment for performing the necessary tests, can use an instrument developed by Charles & Colvard specifically for distinguishing diamond from moissanite.
FOR AGENTS & UNDERWRITERS
Other things being equal, moissanite has about one-tenth (or less) the value of diamond. Take care not to insure moissanite as diamond.
An appraisal for diamond jewelry should state whether the gem is natural or synthetic.
Many jewelers cannot distinguish moissanite from diamond. Be sure the appraiser is a Graduate Gemologist (GG), preferably a Certified Insurance Appraiser™ (CIA). These degrees assure you that the appraiser has the training, and the lab equipment, to perform the necessary gemological tests.
FOR ADJUSTERS
Moissanite has about a tenth the value of a typical diamond. Take care in determining whether the jewelry is diamond, rather than a simulant.
Synthetic diamond also has a value far below natural diamond. Inspect the appraisal for terms that mean synthetic, such as grown, created, lab-made, and cultured.
Makers of synthetic gems use their names to market their products. Recognizing these names, or working with a jewelry insurance expert who does, could save you tens of thousands of dollars on a claim.
©2000-2018, JCRS Inland Marine Solutions, Inc. All Rights Reserved. www.jcrs.com
Subscribe to Jewelry Insurance Issues