The Doublet Masquerade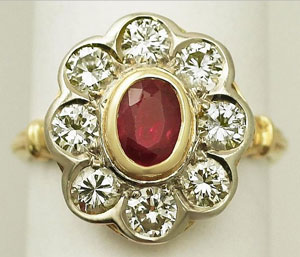 Ruby doublet
Delighting the eye sometimes means fooling the eye. An old trick is being used again to create gems that look better than they are. Doublets and triplets are making a comeback, mostly involving ruby and sapphire.
A gemological doublet is just what its name suggests: two stones joined together. But the stones are not necessarily gems, and the joining is part of the problem.

Looking at doublets
Doublets were popular in antique jewelry. Before quality synthetic gems were available, this was a widely used technique for creating gems that imitated the appearance and optical effects of natural gems. It was also a way to give strength to fragile gems and to create large gems at affordable prices.
To make a doublet, two stones are literally glued together. Such a composite stone mimicking ruby, for example, might have a top made of red garnet and a bottom of colored glass.
In some cases, the doublet's color comes from the colored glue holding top and bottom together. Red glue, sandwiched between two pieces of colorless spinel, produced a ruby simulant. Blue and green glue could be used to simulate sapphire or emerald.
A triplet is a composite that uses three pieces, rather than two, to form the whole "gem." One representative version, known as a "soudé emerald", had two pieces of synthetic spinel fused together with a layer of green-colored gelatin or green glass, producing an emerald-looking stone.
Some doublets have been made of natural gems, but the gem material is of poor quality or small size. Two small rubies, for example, could be joined to produce a larger ruby.
Two pale green emeralds, when fused using a deep green glue, produce a more vividly colored emerald. Two pale yellow sapphires of little value, when joined together with a blue glue, produce a convincing "fine blue sapphire."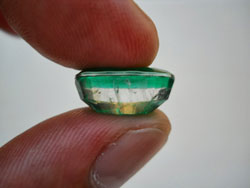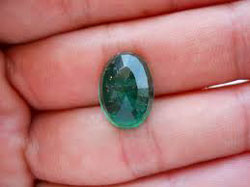 Lab-made doublet, half emerald and half glass
If a loose doublet were viewed from the side, the seam would be apparent. In jewelry the trick succeeds because doublets are typically put in a bezel setting, which surrounds the gem at the girdle, so the seam is concealed. From the top, the doublet or triplet looks like a solid gem.
Doublets in the mix today
Gemologists and gem labs report that doublets are surreptitiously entering the market. Rubies, emeralds and sapphires are the most common.
One customer paid $16,000 for a pair of "genuine" emerald earrings that turned out to be doublets made of synthetic spinel and worth only a couple hundred dollars.
Today's doublets are more sophisticated than in the past. Rather than being composed of glass or garnet, they are usually made with synthetic gemstones. A common arrangement is to have a nearly colorless natural ruby or sapphire on top and a synthetic stone on the bottom. The top, accessible to examination even in a setting, tests as natural, but the color is derived from the lab-made stone on the bottom.
Technicians have even developed ways of mimicking characteristics used to identify natural gemstones, such as the silk-like inclusions typical of natural ruby, or the phenomenon of asterism found in high-quality sapphires.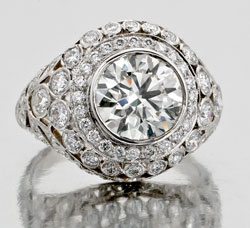 Gems in bezel settings
In a sample reported by one lab, a purplish-red stone weighing almost 5 carats displayed the silk-like inclusions typically found in natural ruby and sapphire. However, closer inspection showed that the visual phenomenon was due to a layer of some foreign material just below the girdle. The specimen turned out to be not a 5-carat natural ruby but a doublet composed of two smaller synthetic rubies with a layer of some other material between them.

If the stone had been mounted in a bezel setting, the doublet could well have been appraised as a single natural ruby. The consumer and insurer would have been defrauded, because:
Synthetic gems are worth less than natural gems.
Small gems have a lower per-carat value than larger gems. (Two 1-carat rubies are worth less than a single 2-carat ruby.)
The material used to mimic the silk-like inclusions may be unstable, and the effect would disappear.
The material used to join the pieces may break down during ultrasonic or steam cleaning, or merely over time, and the gem would fall apart.
Doublets are often mixed in with batches of natural gems. Suppliers may be unaware of exactly what they're buying and selling—or they may be attempting fraud. Jewelry manufacturers and jewelry retailers may be careless about examining their gems—or they may be attempting fraud.
Disclosure
Doublets can be ingenious creations for producing attractive jewelry at more affordable prices. The issue here—as in so many jewelry insurance situations—is disclosure. The consumer should be aware of what she's getting and should pay an appropriate price. The insurer needs to know exactly what is being insured and should have a realistic valuation.
FOR AGENTS & UNDERWRITERS
A doublet or triplet should be so identified on the appraisal.
A doublet is a composite stone. If it were to be appraised as a large single gem, it would be grossly overvalued.
A large number of doublets have a nearly colorless natural ruby or sapphire on top but a synthetic stone on the bottom. If that stone were appraised as a single natural stone, the valuation error would be even worse. If it were composed of non-gem material but appraised as natural gem, the valuation error would be outrageous.
Rubies, sapphires and emeralds are the most common gems used in doublets, so the appraiser should be a gemologist who regularly deals with colored gems. Because detecting a doublet in its setting can be tricky, a diligent appraiser must be alert to the possibility of deception and thoroughly examine the jewelry.
A reliable appraiser will also be able to recognize synthetic stones and color and clarity enhancements, all of which affect the valuation of gems.
For all quality jewelry, do not rely solely on documents supplied by the seller. An appraisal by a reliable independent appraiser will verify that the description and value of the jewelry is as the seller promised.
Recommend that your client get an appraisal from a trained gemologist (GG, FGA+, or equivalent), preferably one who has additional insurance appraisal training. One course offering such additional training is the Certified Insurance Appraiser™ (CIA) course of the Jewelry Insurance Appraisal Institute.
Request a colored gem report from an internationally respected lab such are AGL (American Gemological Laboratories) or Gubelin Gem Lab. You can verify the contents of a report by contacting the labs.
AGL - http://aglgemlab.com/contact/

Gubelin - http://www.gubelingemlab.ch/Laboratory-Services/Coloured-Stone-Reports.php
FOR ADJUSTERS
Always have damaged stones examined by a gemologist (who is not the selling jeweler) before settling a claim. For all colored gems, be sure to consult an appraiser who regularly deals with colored gemstones.
Be sure to get copies of all lab reports. The most reliable labs for colored gem reports are AGL (Amrerican Gemological Laboratories) and Gubelin Gem Lab.
When reviewing appraisals, you may want to verify the appraiser's gemological credentials.
For GG (Graduate Gemologist), contact GIA: 800 421-7250

For FGA or FGA+, contact GEM-A: http://www.gem-a.com/about-us/fga--dga-register.aspx or call 44 (0) 20 7404 3334
Examine all documents for the words doublet, triplet, soudé (which is a kind of doublet), composite and assembled. All these terms signify a stone that is not a single gem but is made of two or more pieces glued together.
Doublets and other composite gems are held together by some non-gem material. A breakdown of this material is not damage for which the insurer is liable.
©2000-2018, JCRS Inland Marine Solutions, Inc. All Rights Reserved. www.jcrs.com
Subscribe to Jewelry Insurance Issues