Frankenwatches
A large number of watches sold as brand name timepieces contain parts that are fake—parts cheaply manufactured to mimic the brand or simply taken from cheaper watches. In the vintage watch market, these cobbled together timepieces are known as frankenwatches.
Apparently pop star John Mayer discovered a number of such pieces in his own collection. In March, Mayer sued a Los Angeles watch dealer for selling him seven very expensive vintage watches that contained non-authentic parts. He's asking $656,000, the price of the seven watches in question.
Mayer isn't just a star with cash to spend. He's been a sophisticated collector for many years and owns more than 100 watches. He's even considered by those in the field to be something of an authority. He served on the jury for the Grand Prix d'Horlogerie de Genève, the world's most prestigious award in watchmaking.
Robert Maron, the dealer who sold him the goods, is a "watch broker to the stars" and regarded as an expert in ultra-high-end vintage timepieces. Over the past several years, Mayer reportedly bought $5 million in watches from him. Occasionally Maron would advise Mayer that a particular watch was probably not authentic, and Mayer would not buy it. So, both parties supposedly know vintage watches.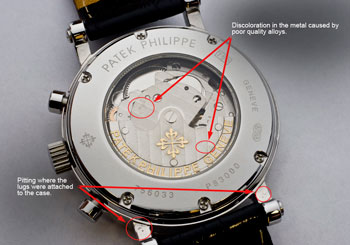 Patek Philippe with non-original parts
Unlike Dr. Frankenstein's monster, a frankenwatch isn't necessarily easy to spot. A high-end watch is considered counterfeit if any of its parts are not authentic, which is a challenging standard.
Watch specialist Elizabeth Doerr comments, "As anyone in the vintage wristwatch scene will attest, no one is truly an 'expert' when it comes to vintage Rolex, which is an exceedingly tricky subject. It is precisely this 'trickiness' that makes it so enjoyable and addictive to the people who are in a position to partake."
Size of the Franken Iceberg
This lawsuit made the news media because the stakes are so high and, of course, because a popular public figure is involved. But in terms of fraud, a case like this is only the expensive tip of a huge iceberg.
The business of selling counterfeit watches is international in scope. Fake parts are made in many locations and shipped all over the world for assembly and sale. The counterfeit business thrives because there are big profit margins at every step along the way.
10:1
Annual production of
fake Rolexes to
authentic Rolexes
Counterfeit watches run the gamut from high-end brand names with a few substitute parts that even the experts could miss, all the way down to cheap knockoffs that might be stamped with the word "Rolex" to fool the masses. They might sell for tens of thousands of dollars or for under $100. Counterfeit watches might be sold in jewelry shops, in tourist resorts, at bargain-basement flea markets, on internet auction sites, by renowned watch brokers, or from a guy on a street corner.
NOTE: The vintage Rolex pictured at the top of this page is NOT known to be a "frankenwatch." Even if it were, you certainly couldn't tell from a picture. The best counterfeit watches look very good; their substituted parts can be detected only by an authority on the brand who takes the watch apart and examines it in detail.
The point for insurers
A Rolex that has after-market modifications may still be a fine piece of jewelry, beautiful and well-functioning, but it is not regarded by Rolex as authentic. A modified Rolex (or other luxury brand) does not have the value of an authentic Rolex, and it should not be insured as, or replaced by, an authentic Rolex.
For more details, check out some of our earlier issues. The Mushroom War highlights the huge national and international business in counterfeit watches. Signs of a Fake points out some of the irregularities that watch experts look for.
FOR UNDERWRITERS
Many customers may not be aware that luxury watches bought from sources other than an authorized dealer may be counterfeit, despite any logos or trademarks. Insisting on complete information about the watch not only protects the insurer but is a service to the policyholder.
Any watch from an unauthorized source should be thoroughly inspected to be sure that all its parts are genuine, including the movement. This requires opening the watch case and examining the entire watch in detail. The inspection should be done by an authorized dealer in that brand. You don't want to have to replace a cheap knockoff with a genuine item down the line.
Things to keep in mind:
Fine watches are identified by model and serial number, which should be given on the appraisal.

In addition, most manufacturers have separate model numbers for parts of the watch, such as the dial, bezel and band. All these numbers should be on the appraisal.
Any gems on the watch, and the metal of each watch part, should be described in the same detail as for a piece of gem jewelry. A picture is always helpful.
The sales receipt should be from an authorized dealer of the brand. Most high-end manufacturers sell only through authorized dealers, and generally do not sell directly on the Internet.
Ask for warrantee papers. Fine watches not sold by an authorized dealer are considered by the company to be "second-hand" and do not carry warrantees.
Not every jeweler is competent to appraise luxury watches, able to judge authenticity of the watch and all its parts, and to recognize non-authorized after-market add-ons as well as out-and-out fakes.
The appraisal you accept should be done by a dealer trained to authenticate that brand of watch.
FOR ADJUSTERS
Though claims on luxury watches are relatively infrequent, they can be expensive. To guard against fraud:
Check the appraisal for manufacturer, model and serial number, plus any other identifying information.
Check for manufacturer warrantees and other evidence of authenticity. Some manufacturers sell only through authorized dealers. Merchandise bought online (or from other unauthorized sources) may be second-hand, or may be altered with cheaper parts, or may be a complete knockoff wearing a prestigious logo.
The sales receipt is important evidence. If the seller is not an authorized dealer in that brand, the watch may be counterfeit.
If you suspect a watch is counterfeit, consider consulting a jewelry insurance expert to help resolve the issue.
For an authentic luxury watch, seek a replacement only from an authorized dealer for that brand. Do not be tempted to shop in the huge market that exists for watches with unauthorized, after-market add-ons (unless you are satisfied that the insured watch contained after-market add-ons).
©2000-2018, JCRS Inland Marine Solutions, Inc. All Rights Reserved. www.jcrs.com
Subscribe to Jewelry Insurance Issues