Is the gem suitable for the jewelry?
Is this a good insurance risk?
All kinds of gems are used in jewelry. But not all gems are suitable for all kinds of jewelry. From an insurer's point of view, some can be accidents waiting to happen.
Here are some examples of what a good appraisal for insurance should tell you—but usually does not.
Poor toughness (durability) rating
Toughness describes a gem's vulnerability to cracking or chipping under impact. Even diamond, which has a fair-good toughness rating, can chip—as insurers are well aware. But stones with poor toughness ratings, such as topaz or tanzanite, can chip fairly easily. These are not good candidates for a ring or bracelet, where they're likely to be knocked against objects that could damage them. In earrings, however, they would be quite safe.
Ideally, the appraisal for a ring with a gem of low toughness should mention the need for special care to avoid damage. This notice would remind (or inform!) the owner that the stone chips easily, and it would also caution the insurer about the higher-than-average risk.
Low hardness rating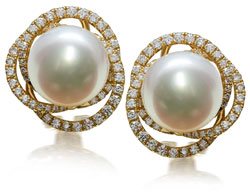 Hardness refers to a gem's resistance to scratches. Diamond (rated 10 on the Mohs scale) is the hardest of gems. Although diamond can chip, as indicated by its middling rating for toughness, diamond's hardness makes it difficult to scratch except by another diamond.
Gems of low hardness, such as pearl, opal, jade and coral, are by nature very sensitive to surface damage and require special care to keep them safe.
Soft gems can be harmed by exposure to common household chemicals like bleach or vinegar, by perfumes and body lotions, and even by acid from the skin. Since such gems can easily be damaged, it's recommended to store the jewelry in a cloth bag to keep the gem from being scratched by other jewelry.
Because vulnerability to surface damage is the nature of soft gems, such damage would be considered normal wear and tear, for which the insurer is not liable.
Mounting issues
Sometimes the shape of a gem makes it vulnerable to damage. This is where the mounting can come to the rescue. Marquise, princess and pear diamonds have sharp corners that could easily be chipped. A conscientious jeweler will put a gem in a setting that protects corners, a thin girdle, etc.
If the mounting of a stone is not sufficient to keep the gem in place and safe, if the mounting has loose prongs or if the gem's corners are not protected, that should be mentioned on the appraisal. A poor setting greatly increases the risk of damage or loss of the stone.
Fracture-filling treatment
Highly fractured gems are not solid and so are vulnerable to breakage. The fractures are often filled with some non-gem material to make them less visible, but they are still fractures and the stone is still weak. The fracture-filling treatment is especially common with emeralds, because emeralds are by nature highly fractured.
Fracture-filled stones can be damaged by heat (such as hot water used in washing dishes), air pressure changes (as in an airplane cabin), or chemicals. If the fill material breaks down, the fractures will again become apparent.
Fracture-filling should always be noted on the appraisal because it has a serious effect on durability and valuation! Sometimes appraisals or sales documents use the term "clarity enhanced", suggesting that something's been done to make the stone better. In truth, the treatment has only made the stone look better, better than it really is.
Insurers should be aware that fracture-filling, or clarity enhancement, signals a weak stone that is vulnerable to breakage. It is inherent vice.
The risk of damage is so great that some insurers have chosen not to insure any fracture-filled stones.
Composite Stones
Composite rubies have been big news for the past few years, ever since Macy's was sued for selling them. Described by some as fracture-filled rubies on steroids, these stones often have more lead-glass filling than ruby material and would fall to pieces if they were heated and the glass oozed out.

The red stone at right is a composite ruby. The picture below it shows a large piece of the yellow lead-glass used in the treatment oozing out of a piece of ruby rough.
Composite rubies ought not to be in jewelry at all, since the likelihood of damage is so high. Insurers should not insure them.
FOR AGENTS & UNDERWRITERS
The discussion above covers only some of the situations that affect insurance risk. A conscientious jeweler or appraiser will tell the jewelry owner of any conditions that require special care or precautions to keep the jewelry safe.
Ideally, such information should also be on the appraisal, stated prominently and not buried in fine print of appraisal boilerplate. The special care need not be described, but a note about the requirement for care would be a signal to the insurer.
Meanwhile, some things to look for on the appraisal:
"Composite ruby" – high likelihood of damage, do not insure!
"Fracture-filled" or "clarity enhanced" – we recommend not to insure
Princess, marquise, or pear diamond – check picture: are the points of the gem protected in the setting?
Recommend that your clients get a detailed appraisal on JISO 78/79 form, written by a trained gemologist (GG, FGA+, or equivalent) who has additional insurance appraisal training. One course offering such additional training is the Certified Insurance Appraiser™ (CIA) course of the Jewelry Insurance Appraisal Institute.
FOR ADJUSTERS
Study the appraisal and other documents for such words as treated, enhanced, clarity enhanced, lead-glass enhanced, fracture filled or composite. This is crucial information when you are pricing a replacement.
Clarity-enhanced, or fracture-filled, stones are worth far less than untreated gems of similar appearance. Use every means possible to determine whether or not the gem has been fracture-filled.
For damage claims, ask the policyholder whether the jewelry has recently been cleaned or the gem reset, or whether it had been exposed to such common household solvents as bleach, ammonia or lemon juice. Fracture-fill materials often discolor or break down under the stress of heat or chemicals, causing the stone to appear damaged. In such cases, it's really the filling that's been damaged and the insurer is not liable.
Normal wear and tear may significantly alter the appearance of gems with low hardness ratings.

If you are unsure about whether damage was due to inherent vice, you may want to consult a jewelry insurance expert.
©2000-2018, JCRS Inland Marine Solutions, Inc. All Rights Reserved. www.jcrs.com
Subscribe to Jewelry Insurance Issues