Why NOT to insure a Rolex – Reasons 11-12
Say the insured just bought his Rolex from an authorized Rolex dealer, and he has all the warrantee papers and a sales receipt. Clear sailing! You've got everything you need to write it up.
But what if the watch wasn't from an authorized Rolex dealer? …Or the insured doesn't have (or "can't find") the sales receipt or warrantee papers? … Or the watch isn't brand new? You may have a sharp-looking appraisal in hand, but can you trust the description and the valuation?
(The numbering below continues from our previous issues—Reasons 1-4, 5-7, and 8-10—on why not to insure a Rolex.)
11. Most appraisal valuations on new Rolexes are inflated.
An appraisal for a new Rolex from an authorized Rolex dealer will generally give the valuation as the Manufacturer's Suggested Retail Price (MSRP). This is a concern for insurers. Most authorized Rolex dealers will discount the purchase as much as 20% off the suggested retail price. That means the MSRP as a valuation is excessive.
The sales receipt is a truer indication of value.
If the watch comes from a dealer in gray goods, the price discount will likely be even steeper. "Gray goods" refers to merchandise that is not purchased from an authorized dealer in the brand. For example, an authorized Rolex dealer may go out of business and sell his stock to another retailer (who is not an authorized Rolex dealer) at a good discount. Or an importer may buy the product in a country where it sells for a lower price than in the U.S., so he can offer customers a reduced price and still make a profit.
Unlike the black market, such gray market dealings are perfectly legal. The merchandise may be a new, never-worn Rolex, but there was no oversight of the chain of transactions. The customer may actually be getting a fake Rolex or a watch with counterfeit parts. As we discussed in previous issues (see links at top of page), the market in counterfeit Rolexes is immense, immensely profitable, and worldwide.
Rolex regards grey-market watches as second-hand because they did not come from an authorized Rolex dealer. As second-hand goods, gray market purchases should not be valued at the Manufacturer's Suggested Retail Price.
Again, the sales receipt attests to the watch's retail value.

12. For vintage Rolexes, valuations are often grossly inflated.
"Vintage" is a term for used watches—it's like "pre-owned" for houses, or "estate" for jewelry. Vintage doesn't connote quality; it just means the watch isn't new.
Here's the problem
Insurers often receive appraisals for old Rolexes with valuations that match the MSRP of the current model. Such outrageous valuations are common practice but they should not be accepted.
A luxury watch is a quality machine but watch parts, such as mechanisms and bracelets, wear out. Also, the company may make improvements from year to year. The improvements may be so subtle they are not visually apparent.
With the exception of rare collector pieces, watches begin losing value as soon as they walk out the door, just as cars decline in value the minute they drive off the lot. Remember that, like a car, jewelry is insured for actual cash value (ACV). A 20-year-old Rolex President should not be replaced with this year's model, any more than a car would be.
Yet such a replacement is exactly what Rolex promotes. An authorized dealer appraising an old Rolex would give it a valuation equal to the MSRP of the current model. And so would many independent appraisers.
Down-side for appraisers: Appraisers who give an old Rolex the same valuation as the current model expose themselves to E&O subrogation claims.

Down-side for insurers: Moral hazard! An insured who realizes that his old Rolex will be replaced with a new one may to decide to "lose" the old one. It is the insurer's responsibility to avoid situations that create moral hazard.
UP-SIDE for Rolex: 1. When an old Rolex has a valuation equal to that of the current model, the customer feels he has an item that holds value, or even appreciates in value. 2. In case of a loss, the insurer may unknowingly take the inflated valuation as true, resulting in the purchase of a new Rolex. Although there is a huge market in used Rolexes, Rolex doesn't benefit from the sale of used watches, only new ones.
Vintage Rolex Market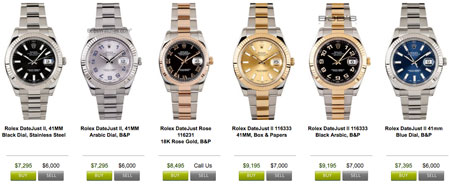 One online dealer described the vintage luxury watch market as "overwhelming and bursting at the seams." Rolex is a star here. Some Internet retailers take watches on consignment, others buy outright.
Some sites list both "buy" and "sell" prices, and the inventory changes daily. These sites are thriving because customers are more likely to buy another watch if they can easily sell the one(s) they have. And retailers of used watches don't even mind if people buy new watches from Rolex dealers, since they're confident those same watches will wind up on their site eventually.
With vintage Rolexes, as with so much online shopping, it's buyer beware. Descriptions are spare, details may be inaccurate and valuations can run amuck.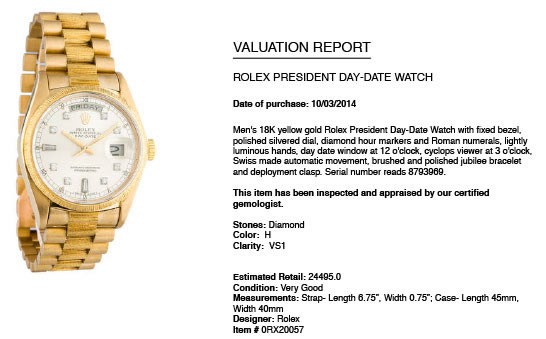 This Rolex President was selling online for $10,500, while its estimated retail value was given as $24,495.
An insurer needs to know exactly what is being insured. Should an underwriter accept this Valuation Report?
A 58% discount is suspicious to begin with.
The serial number reveals that the watch is 30 years old.
A close look at the picture shows that the band has a "bark" finish, a style that was unpopular and soon discontinued because its roughness damaged the shirt cuff.
The Valuation Report leaves out basic descriptive information that is important for determining value, such as the model number. Even though a luxury watch costs as much as a car, watches have no equivalent to an auto's VIN number, identifying it by model, year, etc. Each part of the watch contributes to its value, and all parts should be separately described on the appraisal.
Without even the model number, the true value cannot be determined. But, based on available information, a realistic valuation for a Rolex like this would be $6,000-$7,000.
And then this very important consideration: Is this a genuine Rolex? –Or does this watch have some Rolex parts and some fake parts? Or is it a complete counterfeit, wearing a Rolex logo? For the answer, the underwriter needs an appraisal written by an appraiser knowledgeable about the Rolex brand. See the following section—and also, see our previous discussions of Rolex counterfeits (links at top of page).
So what we have here is:
Valuation: $24,495
Selling Price: $10,500
Realistic value (based on available information): $6,000-7,000
If the underwriter simply accepted this Valuation Report as valid:
Moral hazard! If the insured realizes his watch is worth considerably less than he will get for a loss, he may be tempted to "lose" the watch.
The policyholder would wind up paying excessive premiums based on an inflated valuation.
Ill will comes when the adjuster does his job. If the policyholder has been paying premiums on $24,500 and the insurer can buy a replacement for $10,500 (as the insured did) or even less, the settlement will be disappointing and the customer may bolt, blaming both the agent and the insurance company.
13. This is a bonus (making a baker's dozen): Few jewelers will take the risk of opening a watch to properly examine it; they would be taking on a major liability, which their insurance will probably not cover.
Appraising a Rolex requires taking the watch apart to identify and record all its parts. The appraiser must be able to recognize whether each part is authentic or counterfeit. He must also be familiar with earlier models of the brand and must know their value in the vintage market.
A responsible jewelry appraiser who lacks this very specific competence should build a relationship with a certified Rolex watchmaker, who can perform such a thorough examination.
Aim of this series on Why NOT to Insure a Rolex
The purpose of this 4-part series is to build awareness of a problem. Some insurers are not even aware of the high loss ratio for men's Rolexes, the prevalence of counterfeit Rolexes, and the grossly inflated valuations, and how all this affects their bottom line. Some companies are aware of adverse loss ratios with Rolexes and have chosen to set a limit of $10,000. Some companies insure Rolexes only as collateral to the account.
When insurance companies make too-generous settlements too often, they may decide to get out of the market. If this happens, agents will have no market for insuring Rolexes.
Agents and underwriters should be proactive in requiring detailed appraisals with realistic valuations.
FOR AGENTS & UNDERWRITERS
Ask for the sales receipt.
An appraisal valuation should be the price that the jewelry retails for. If the stated valuation is considerably higher than the selling price for a recent purchase, the sales receipt is your best guide to the watch's value.
It is common for appraisers to value a used ("vintage") Rolex as though it were the current year's model. Such a valuation is grossly inflated. It creates moral hazard, and agents and underwriters are advised not to accept it. There are tools available that give pricing for vintage Rolexes, and a competent appraiser should be aware of them.
Agents and underwriters are advised not to accept it. There are tools available that give pricing for vintage Rolexes, and a competent appraiser should be aware of them.
Only an appraiser familiar with the Rolex brand, and how it sells in the marketplace, can properly appraise a Rolex. Recommend that your clients get an appraisal from a trained gemologist (GG, FGA+, or equivalent), preferably one who has additional insurance appraisal training. One course offering such additional training is the Certified Insurance Appraiser™ (CIA) course of the Jewelry Insurance Appraisal Institute. If the CIA is unable to perform a proper inspection and determine valuation, he can recommend an expert.
It may be necessary to send a Rolex to an authorized dealer, or to the company itself, for an appraisal. This may seem pricey to the insured, but it should be considered part of the price of owning a quality watch. An appraisal from Rolex verifies that the watch is genuine Rolex in all its parts.
Things to keep in mind:
Fine watches are identified by model and serial number, which should be given on the appraisal.

JISO 18 with watch section highlighted.

In addition, there may be separate model numbers for parts of the watch, such as the dial, bezel and band. All these numbers should be on the appraisal. You can use the "watches" section of JISO 18 Jewelry Appraisal & Claim Evaluation form to check that all necessary information is on the appraisal.
Any gems on the watch, and the metal of each watch part, should be described in the same detail as for a piece of gem jewelry.
The appraisal should include one or more pictures of the watch.
Ask for warrantee papers. The absence of warrantee papers on a new Rolex purchase is a serious red flag.
The name of an authorized Rolex dealer should be printed on the warrantee papers, even if the watch is second-hand and came from a different seller. (If the seller's name has been written in, or if it looks like a change has been made on the papers, this means the watch is gray market, or even counterfeit.)
Bear in mind that warrantee papers can be forged. Warrantee papers and Rolex boxes are for sale on the internet. An authorized Rolex dealer should be able to verify legitimate warrantee papers.
FOR ADJUSTERS
Claims on Rolexes can be expensive. To guard against fraud:
Check the appraisal for manufacturer, model and serial number, plus any other identifying information.
Check for manufacturer warrantees and other evidence of authenticity.
Rolex does NOT allow its authorized dealers to sell on the internet. Merchandise bought online (or from other unauthorized sources) is gray market or second-hand, or may be altered with non-Rolex parts, or may be a complete knockoff wearing a prestigious logo.
The sales receipt is important evidence. If the seller is not an authorized dealer, the watch may be counterfeit.
If you suspect a watch is counterfeit, consider consulting a jewelry insurance expert to help resolve the issue.
For an authentic Rolex, seek a replacement only from an authorized dealer for that brand. Do not be tempted to shop in the huge market that exists for watches with unauthorized aftermarket add-ons unless you are satisfied that the insured watch contained aftermarket add-ons.
©2000-2018, JCRS Inland Marine Solutions, Inc. All Rights Reserved. www.jcrs.com
Subscribe to Jewelry Insurance Issues